Catching Up with T-Minder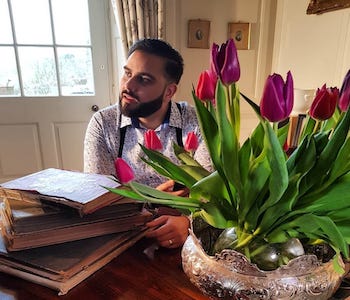 Rupinder Rainer caught up with talented UK vocalist T-Minder to find out a bit more about him and his interest in music.
Welcome T-Minder!
In the past years, the industry has evolved so much, particularly through the influx of new artists, both in terms of vocalists and producers which has resulted in the focus shifting towards bhangra singles being released rather than full albums. What made you return to Bhangra – in this new era?
It's a exciting time to return a lot happening on the scene and it's good to be pushed and be surrounded by so many talented individuals who are all doing a great thing.
Seems like artists nowadays do not produce rich content, past generations were full of first-generation immigrants who had to change their circumstances so therefore they produced quality music which was parallel to keep their roots alive, nowadays the 2nd generation can't seem to produce anything good, why is this?
I disagree... Everyone has their own talent and unique ways to deliver their message through music. The only thing that has changed is the audience with the times, as they say you have to keep up with the times.
Every producer should invest time into their craft, this is what makes you; your swag can possibly be duplicated in some form, but not copied. Your thoughts on this statement?
I agree looks, style and fashion can be copied but one thing that can not be taken away from you is knowledge and talent. So its important to learn your trade whatever it.
How are the concepts for the tracks created? Do you just sit in the recording studio with a producer and brainstorm ideas?
Initially for me something has to influence my thinking to trigger a concept, whether its personal life experiences or something I observe around me. From then I look at putting down some lyrical content then going and working on musical compositions to see which producer would work with their unique touch on the track... from there the magic is made.
Moving on to your new track, how long was the process from putting together the song and shooting the video.
From start to finish the process was around 2 months.
Don't Leave Me, the Song is produced by Kami K and released via Revere Records, can you tell us more about this song?
It was a pleasure working alongside the legend himself Kami K on the track. Not only did I enjoy working on the project, but picking his brains with the musical knowledge he has is always a great experience too. The second version was done by Juss Musik and it was always an enjoyable experience working alongside the duo but its always a challenge getting down to actually getting the work done as we just get carried away in conversations which are non work related :)
The music industry can be a taxing lifestyle, the Asian music industry seems to have hit a roadblock here in the UK, what do you think needs to be done to take it forward?
I disagree again... UK is and always has been full of talent, people need to believe that they can do it and appreciate the talent they have. Flaunt the talents you have! You live once this time may not come again.
If you had to pick one track from your back catalogue that you feel really pushed you career, which one would you choose and why?
"Do Rooha". This song really was appreciated and surprisingly still appreciated by many music lovers till today. This was a special project from recording the song with the living legend himself Rishi Rich and then flying to India for the video on my last trip with my parents before I unfortunately lost my Father to Cancer. So some happy and sentimental values attached to this project.
Overall, how happy are you with the tracks that you have done? Does it allow you to experiment and reach different audiences and add more variety to our repertoire?
I am very happy with the tracks I have done and the ones that are coming. I have selected them all and worked with the team to get everyones opinions to ensure we do things the right way round. I will have material to cater for all audiences and to engage between all people.
We thank you and wish you the best. So, what message would you like to extend to the SimplyBhangra readers?
Thank you for your continuous love and support over the years and I hope you will continue that. I thank the team of SimplyBhangra for taking the time to interview me and support my musical journey from the beginning.
Also I would like to thank my team behind the project Don't Leave Me for the hard work and efforts. If anyone out there is reading this and is a aspiring artist in any field just remember "you can do it, only if you do it" its a quote that often drives me further even when I feel the road has come to a end.
You can follow me at Follow @rupinder_rainer