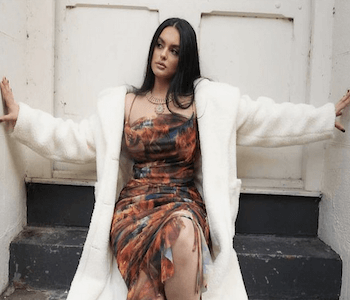 Rupinder Rainer caught up with Simmy to find out a bit more about her and her interest in music.
Simmy, it's wonderful to feature you! Tell us about your background and your journey so far.
Thank you for giving me this opportunity! My name is Simran Kaur and I am a 20-year-old Punjabi and English singer from Yorkshire, UK. Alongside studying Medicine at university, I am pursuing my passion of singing.
My musical journey began in 2008 when Akhtar Hussain Akhtar, the lyricist of the evergreen song 'Ghar Aja Soneya' became my Ustaad Ji. During secondary school, I began training in Western musical vocals. This was when I discovered that I have a true passion for singing in both Punjabi and English. Hence why, I started posting Punjabi and English covers on Instagram in 2017, and 3 years later I was discovered by Director Whiz.
We look forward to seeing something fresh in our scene! I imagine your influences must be really diverse. Who has shaped your music, creatively?
Thank you! I am excited to share my talent and hope to make some sort of impact on the UK Punjabi/English scene! Since I sing both Punjabi and English genres, I have been inspired by a diverse range of singers. I believe that my style is similar to the likes of Mickey Singh and Ezu, who have been my influences in Punjabi-English fusion.
I have always been a big fan of 90's and 2000's R&B, especially artists like Tamia, Brandy, Beyonce and Ashanti. My Sufi influence is Nusrat Fateh Ali Khan.
Moving onto your new track, Kamlee how did you all get in contact to work on it?
I was discovered by Director Whiz and Jeona Productions in 2020, and they now manage me as an artist. I am so grateful that my talent was recognised, and through Whiz, I networked with many inspirational and talented people like Jazz Aulakh, another up and rising UK Punjabi singer, songwriter and producer, and Teji, a very gifted lyricist and music artist.
The lyrics to Kamlee were written by me and Teji, and Jazz Aulakh produced the Kamlee track. We are now all part of the Whiz Team.
Are you ever apprehensive over how critics might respond to your music?
I am not necessarily apprehensive, but I am aware that there will be individuals who will not like what I bring to the scene. I will always be open to constructive feedback and criticism, since I believe that the only way to progress is to make improvements.
What about Asian fans who tend to usually gravitate towards the more common Urban-Desi fusion?
I hope that I can bring something new to the Urban-Desi scene with my style. I feel that people of my generation will relate to my vibe in the sense that UK and Canadian born individuals live in both the Punjabi and Western world.
I hope to also introduce the Punjabi music scene to my non-Punjabi listeners too, because I believe that Punjabi music deserves more recognition, and for it to be integrated with other music genre styles.
In this competitive industry, what made you feel this is the field for you and you could provide something unique?
The Punjabi music industry is heavily male dominated, and I feel that there needs to be more of a push to bring more UK Punjabi female artists to the UK Punjabi music scene. I am very lucky to have already gained a support network around me, I guess it's about pushing yourself out of your comfort zone and to have self- belief about your talents and abilities.
I find that there is a gap in the UK Punjabi industry, with a lack of female artists who are exploring the Punjabi-English fusion vibe. This is where I feel that I can bring something to the scene.
When it comes to competition, I feel that I am only in competition with myself, to ensure that the songs that me and the team release are of a certain standard.
If it wasn't for music what field would you have been in?
I am pursuing my medical career alongside my singing career, since both are my passions. I will always have a medical background and hope to become a doctor in 4 years. Hopefully, my music will also become a long-term part of my life too.
Currently we all know the Punjabi music industry is dominating in India. Why do you think it is lacking in the UK?
I remember the UK Bhangra scene back in the 2000s, with the likes of RDB releasing banger after banger! UK Punjabi artists were quite huge back then, but I do feel that some factors caused the UK Punjabi scene to die down.
Migration of Punjabis into the UK from India has decreased significantly over the past decade, therefore fresh talent, vibes and ideas are found less in the UK.
Have you got any future projects lined up?
Yes, I have some ongoing projects right now, and myself and the Whiz team hope to release some more projects very soon. In addition to working on the Punjabi-English fusion vibe, I am also working on Punjabi bangers that I feel Punjabi Bhangra listeners will like. This way, I would like to illustrate the versatility of my voice.
What would you like to say to the readers at Simplybhangra?
To the readers of Simplybhangra, thank you so much for the overwhelming support I have received on my debut track, truly means so much to already have so much support and encouragement.
I look forward to releasing more projects and make sure to check out my debut single, 'KAMLEE' on YouTube, and all streaming platforms if you haven't already. Much more to come from myself and the team.
You can follow me at Follow @rupinder_rainer