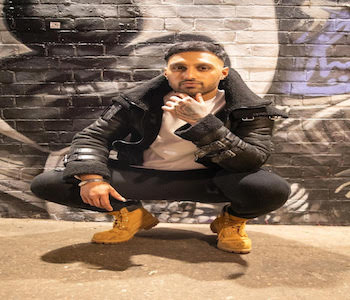 Young growing music producer Jeeves recently released his debut single 'Bang Da Ting' which has been sung by Balwinder Bhatti. We got the chance to catch up with Jeeves to talk about his single and his journey.
How did you get your start in music? Who are your musical inspirations?
It all started off at a very young age of 3 years old as far as I can remember. As a child I've always been into music & Indian percussion instruments. I remember having a small Dholki at a very young age & then moved onto playing the Dhol & Harmonium. In my teens I started to play the Dholki at the local Gurdwara & Mandir. This is where my skills and knowledge of music grew.
During secondary school I attended Dhol classes which were held by Anil Banger ( Banger Artist). I had spent 4 years with him & learnt quite a lot. In school I had taken on music as a GCSE. This is where I began to learn about music production & how it all comes together. I then installed the software & started off creating beats & rhythms at home.
I've looked up to many groups as I was growing up in my teens such as , The Bhangra Legends Band, DCS, Bhangra All Stars & Scope Events Live. In my late teens I started to play Dholki as a freelance player with various groups & singers in the Bhangra industry. The last Band I played for was The Harvey Sahota Live Band back in 2019 & what a amazing experience that was.
During this time I had been playing Dhol alongside Bhangra Smash up, Desi Divas Folk Dance Group & various DJ's.
You have just released your single titled: "Bang Da Ting " - tell us how this project came about and your thought process going into this project
2020 MARCH LOCKDOWN .....
A year that has effected everyone in every way & especially myself as there were no gigs which was such a norm and all of a sudden nothing. After my 21st birthday in march, there was no sign of the lockdown easing & at this point I decided to take music production seriously. Taking the a risk & having nothing to loose. After getting in contact with Balwinder Bhatti in may, it had been full steam ahead, from Rehearsing, going to the studio & getting the music video done.
What were some of the challenges you faced being a one person show( producing, and acting in the video)? Tell us the pro's and con's.
Biggest challenge during this project was getting people together for the video shoot & studios being closed due to Lockdown restrictions. Pkcthefirst (Engineer) helped me out along this journey of mine. Showing me where I've gone wrong and how to improve. It was as if it was a trial & error while producing the track but nevertheless, I'm thankful that he took his time out to help me.
I have been blessed that I have good friends and family that have supported me 100% the whole way. I can't thank them enough for everything they've done.
What projects do you have going on at the moment or are expecting to work on in future?
After "Bang Da Ting" I've been working on a project that will hopefully be dropping soon ... so watch out for that one. There's a lot more in the pipeline from myself so expect me to be making some noise !
What is difficult for a newcomer if they want to enter this industry?
Coming into this industry is difficult if you don't have the expenses. There's a lot of money involved & it can set you back if you don't go the right way about it. There's always that 'if or 'but' when coming into this field. If your thinking of making money out of it really quickly, then I'd say leave it. If you truly love music and want to showcase your talent, then there's a platform.
We all know its a competitive industry, what made you feel this is the field for you and you could provide something unique?
It's clear to everyone that Bhangra music that we hear today is coming from abroad. I felt like I wanted to bring it back to the UK with that UK Bhangra sound. Personally, I don't look at what the other person is doing or how I can be better than them. As long as I'm doing it from the heart, showing people what I'm capable of through my music, I'm more than happy. 2020 had been and up and down year.
I wanted to bring some energy to 2021 & make a statement that I'm here, bringing you fresh music.
How important do you believe it is to keep the Punjabi culture alive through music? How do you believe we can achieve that for future generations?
Punjabi culture will only live on if we teach the next Generation all about our history and background. If we just let it be, years to come there'll be no one interested in punjabi music or language. We should never forget our roots and stay connected to them & if it means by keeping it alive through punjabi music, even better.
Anything for your fans?
Big thank you guys for your love & support so far !
Be sure to see more projects from myself in the near future.
Chase your dreams , trust in god & the rest will fall in place.
Jeeves x
You can follow me at Follow @rupinder_rainer