Catching Up with Luv Randhawa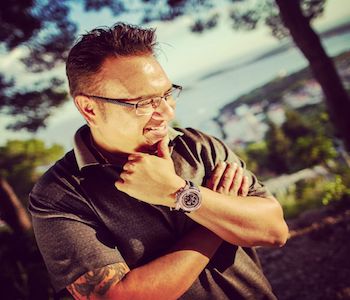 Rupinder got the opportunity to talk with Luv Randhawa on his latest album and views on the music industry.
Canadian based singer/songwriter, Luv Randhawa is undoubtedly a true game changer in the Bhangra scene in North America. His contribution of several foot tapping pumping tracks over a decade with a Bhangra fusion movement has lead to many World Itunes Music Charts hits.
Can you tell us a bit about yourself?
-My Name is Luv Randhawa, was born in the UK and currently living in Vancouver Canada. I am singer, writer, entertainer and have done some production work as well!! Trying to keep busy during these pandemic times!!!
How did you enter the music industry?
Well it started like many other singers, started around a table with a few lads and family members...lol!! Everybody having a turn and it was mine... my friend, goes Luv you have a decent voice... you should give a shot and the rest is history!! Never looked back ...
How have you progressed throughout the years?
I believe, I have as a student of music. I have always looked up to the greats, from Gurdas Mann, Ustad Nusrat Fateh Ali Khan, Mohd Rafi, Kishore Kumar too all the mainstream greats Elvis, Prince, Michael Jackson and UB40. Taking lessons and working with a good vocal engineer. Taught me alot!!
But to be honest, testing myself in every genre and having the internal confidence made the world of difference, in the artist I am today..hence the title of my album...
BELIEVE IN ME
You recently released an english album 'Believe In Me.' What made you want to release something in English rather than Punjabi?
Being raised in 2 beautiful cultures, it was my time to give the mainstream a shot and so happy I did!!! It tested me and I was blessed to work with some of the Legends of the West Coast Rap Era and some of Canada's greats, as well!! Mista Choc Grammy Nominee for Straight Outta of Compton and Vanilla Ice Ice Baby!!
As well, David Bowman of Soul Decision Canada's Biggest Boy Band and Moka Only of Swollen Members !! So blessed to learn from them all and even went to the 2016 Grammy's and even the Playboy Mansion for the After Party...lol Don't worry it wasn't like that... was blessed to meet the likes of Diddy, Jamie Foxx and many others.
This album, opened my mind, to a whole different world of music and the business of music.
Is there something different you had to consider when working on this album?
Music is a universal language, and so is the process. Only thing is that the business side is way way way different!! But damn did I ever learn alot about the singing process and how to really open up my vocals ...finally!! So proud I came to this mainstream genre, with an open mind and belief in myself. Worked hard as a student of music... and it does show in the album!!
What has been the most important thing you learned in the process?
Honestly, I learned that music and lyrics are so important. But you have to make it your style...not listen to the other noise. Listen too your heart if it feels right ...do it!!!
A part from the glamorous side of being in the music scene, what are the negative experiences you've had to go through?
Oh boy, there were and are so many! It's very hard industry to break. There were many lonely nights in the studio. The hardest thing is the traveling alone. But honestly thank goodness for the positive vibes on my team. They really helped, push me too keep going!! I'm really blessed with the real support, I get and the love of the fans.
Your music is very experimental, channelling all those wide-ranging influences. Are you therefore ever apprehensive over how critics might respond?
How can I be apprehensive about critics. They hear the final product, but weren't there through the tough times of the process.. when I release material. It's with pride, I always give it my best. So if anyone wants to put it down thats there prerogative, not mine as I do it from the heart...and am proud that I give it my all...if Bryan Adams Congratulated me on my album, I'm doing something right...
What about Asian fans who tend to usually gravitate towards the more common Urban-Desi fusion?
Asian fans are very intelligent, they understand music. Good music is just that...good music!! They enjoy the beat the catchy phrases and most of all they are loyal listeners... and supporters!! Urban Asian music is awesome as well!! I personally love it ... just get ready for my Asian album...out very soon.
How has the experience of being a producer been considering you have so much creative freedom?
That's truly the best part!! I loved it!! Finally I felt like I could do and create from my heart!! That truly shows who I am in this album...
Any final words for the fans out there?
I have too thank u all for the time and support Simply Bhangra has given me. Truly means the world to me!! To the fans, thank you for coming on this journey with me!! Family & Friends your kind words and love...is everything too me!!
To the haterz and naysayers... thank you for watching...and keep watching there is more to come... !! But in all honesty I thank you for giving my hardwork of 5 yrs a chance!!
We hit #2 on the charts in Canada #6 US #10 India and #4 UK mainstream charts!! So honored for the love and support... without you all...we artists are nothing!! Please support all artists as I truly know the hard work it takes, to put out music!!
You can follow me at Follow @rupinder_rainer