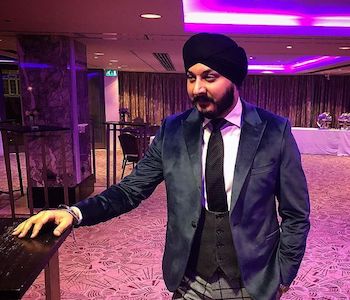 Rupinder Rainer caught up with DDS to find out a bit more about him and his interest in music.
Firstly thanks for taking time out of your hectic schedule, it's a pleasure to have you here finally at SimplyBhangra.com!
You've been out of the scene for sometime, how does it feel to be back doing your thing?
Feels amazing to be honest, I have been really busy with my djing and other aspects in my business and personal life so it feels great to be able to release music again!
What's your take on the whole Bhangra industry now, why do you think it hasn't progressed as much as it should have?
From my point of view the bhangra industry has progressed alot. I see artists making a fulltime living from this industry and now becoming global acts. I feel this question is directed more to the UK Bhangra industry where I feel it has not progressed as once they were industry leaders.
There are two reasons for this, first being that the UK bhangra industry became lazy and there was no innovation anymore. International artists over the years were coming and suprising us with something different and teasing us with new styles, but UK bhangra still remained the same and just was riding that wave.
It still had the same loops, same basic lyrics about daru and girls dancing etc etc. Whereas now India and Canada/America have been so current with their lyrics and music choices and its all relevant with today's society.
Going back to Ik Jindree in 2010 how do you feel about the relative death of albums and the single nature of the industry today?
Its a shame really, but you have to move with the times. I used to love albums and used to love the fact that you could find some hidden gems in an album which relate to you and speak to you personally. Now the spotlight is all on the single which is marketed to the masses and you lose that connection with the niche.
I had an album ready which I was working on for a few years (Perfect the beat), but I feel the market has changed drastically now and the audience will not appreciate an album, so now is the time to concentrate on each individual song.
On to your new track. What you believe is the most special or unique aspect of the latest track?

I personally love the track so that's why I feel its special. Every track I make has to speak to me and I have to listen to it at-least 20-30 times, if it gets boring after that, then the track is not ready for release.
What was the overall vision when going through the creative process?

The vocal itself was actually recorded over 15 years ago so it was in fashion for that period. I literally had to start from scratch when I wanted to release this track and stripped the track to its core. In the current market I feel we are losing the essence of bhangra and everything is being made more urban.
So this is why I wanted to take it back to desi, as this is what bhangra is all about and what I enjoy doing.
Have you ever felt that the extra pressure of delivering high quality content sometimes detract from the production side of things?
Yes definitely, I have a lot of music ready to for release but i am always working on it as i feel I need to change certain aspects as music is changing so fast now. Shelf life for a song is so short now that we have to be up to date with music and its listeners.
The music industry can be a taxing lifestyle, the Asian music industry seems to have hit a road block here in the UK, what do you think needs to be done to take it forward?

Honestly I just feel that the media need to start supporting home grown talent again. There is so much music out there ready to release but is not getting released because there is no support for UK artists anymore.
Alot of media outlets such as TV/Radio or social media pages need to start supporting UK artists again.
All I see is them pushing all international artists with all their releases and then there is zero exposure for UK artists. Once this changes and UK talent is promoted again on home grown territory this will organically grow the industry.
I know so many UK artists with some shit hot tracks but are not releasing because of the same reason. UK has so much talent and its ready to explode.
Who in the Bhangra scene do you rate in terms of bringing out good quality music?

Anyone who produces their own music and has their own style.
Any messages for the SimplyBhangra.com readers?

Keep supporting as you do, there is so much more music to come from myself and other friends of mine, so the future is always looking bright. Thank you to everyone supporting and making this all worthwhile!
Go support his latest single and we wish him all the best for the future!

You can follow me at Follow @rupinder_rainer