Catching Up with Subaig Singh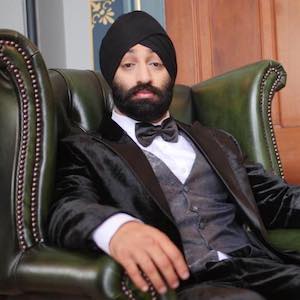 Following the success of his last single 'Jungle', Subaig Singh releases his new track 'Going Crazy' via Mahaveer Records which takes him into a totally different league.
Rupinder Rainer caught up with him to find out a bit more about him and his interest in music.
Producers, artists and video directors need to constantly keep an eye on the different audiences and how their tastes are changing and ultimately, as an artist how important is this for you?
It's very important. It comes with the territory. I have to keep a close on eye on current trends, see what everyone else is doing and which songs and videos are getting the most public attention. It's a bit more complicated than identifying the 'current trend' and going along with it, hoping that you will enjoy the same success as the trendsetters. Sometimes you have to keep a close eye on trends just for the purposes of coming up with something unexpected or original.
Progression and evolution are becoming boring, what do you as an artist think about this? How important is it to experiment with new sounds rather than the regular, favourite traditional bhangra?
I wouldn't say progression and evolution are boring at all. Quite the opposite. It's more boring to be stale and stagnant, and keep doing the same stuff again and again. That's the case for me, anyway. I get bored easily so I need a change and like to shake things up regularly.
Some artists have had great success doing this same thing for 20 years so I don't want to knock them. I definitely have my favourite genres... traditional folk and Bhangra being right up there. As much as they are my personal favourite genres, even I would get bored of repeating the same old stuff, again and again.
Coming onto your new track we are already seeing a lot more songs with English mixed lyrics in the tracks and the increasing use of the Western instrumentation as opposed to the traditional folk instruments. What inspired you to do this on this track?
Seeing the trend of making tracks more westernised and urban etc prompted me to come out with a purely English song. Why just flirt with then odd English word or music piece when we can have a whole song like that? Clearly large numbers of people are looking in that direction so why not just give them what they want?
I felt like I wanted to put my own spin on it though. I loved Shaggy when I was growing up. I used to know all of his songs off by heart, especially Summertime, Bombastic and Angel. I just wanted to make a fun track that would make people smile and given them a bit of a summer beach experience.
"I'm feeling super excited about 'Going Crazy'. It is a club banger that is going to get everyone moving! I am looking forward to seeing how the audiences react to this track, which sees me taking on a completely different genre and style of performance. I don't think anyone will expect this from me!'.
Overall, how happy are you with the tracks that you have done? Does it allow you to experiment and reach different audiences and add more variety to our repertoire?
I love every one of the tracks I have released. It gives me great pleasure to sing, make songs, make videos and to perform both live and in front of a camera. This is who I am and this is what I do. I love to try new things and surprise people. I love reaching out to audiences that I never thought possible. This can only be done by trying new things.
Social networking is the way forward to advertise and promote what you do. How much do you rely on it?
It's very important and it's a great blessing to be honest. It's a very fast and efficient way to get our music out there. It enables us as artists to be in the driving seat rather than being at the mercy of record labels, TV Channels or Radio Stations. I rely on it a great deal. Without social media, your impact on the scene will be very limited indeed.
We would love to see more unity amongst UK producers and raise the game in order to take on the 'India boys again', what's your thoughts on this?
I'm not really into the UK v India thing to be honest. I'm here to represent myself and my music. I want my music to be heard, loved and appreciated everywhere in the world. I work with UK artists, Indian artists, anyone really. Music doesn't really have geographical boundaries and neither does the music business. I came into the music business in 2016 so I missed out on the days when the UK was dominating and then slowly became eclipsed by India.
When I entered the market, India was on top so I don't hold any resentment or bitterness about it. I don't know any different. I like to think big rather than small. Gurdas Mann and Diljit Dosanjh are not defined by geographical boundaries and I don't think that others should either.
You've got to be insane to believe everyone's going to/or should like your stuff. As a 'creative' it's also important to hold a certain amount of detachment from your work. Are you ever worried as an artist what people on the internet will think of your music?
Naturally, you want everyone to love you and love everything you do but that is not realistic. Holding a certain amount of detachment is very important when it comes to releasing a song and receiving negative feedback. If you are too worried or sensitive about negativity you will never step out of your house, let alone step out of your comfort zone as a singer or performer.
This game is not for the weak-minded or for those who lack confidence in themselves. As an artist, I have voluntarily put myself in the public eye and laid myself bare.
The public do no not owe me anything and have every right to praise or criticise me as they wish. If the feedback is positive, I'll lap it up and enjoy it. If the feedback is negative, I'll just dust myself off, crack on and release another song in four weeks time, hoping for a better result next time round.
You can follow me at Follow @rupinder_rainer