Catching Up with Grand Singh Music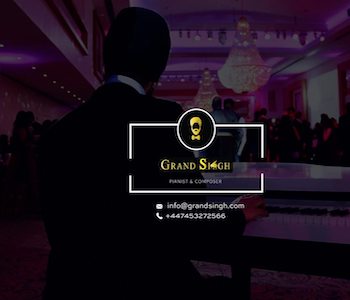 Kulwinder Kainth had the chance to catch up Grand Singh Music, Balvinder Kalon a enthusiastic and experienced pianist and teacher who provides piano, guitar, and music production lessons.
Hello how are you doing during the new normal?
It's ok – obviously weddings have to come a halt but I am trying to spend this time building my brand i.e working on new social media content, building my youtube platform, and planning for the year ahead!
So give us a quick insight on what Grand Singh Music is all about
Grand Singh Music is my own business centred around my passion for music. I love taking my skills of performance & composition and providing value to people whether it be playing at weddings/events, creating music for films/individuals or teaching music.
Love the name Grand Singh Music, how did it occur?
Full credit to my cousin Sukh Nagra (Kikli Roadshow) he has been the person who really supported me and pushed me to venture out into the wedding industry. I had been playing piano for over 10 years as a classical pianist and Sukh suggested to me that I venture out into the wedding industry as my skills would really be valued there.
With his support/advice it just took off far beyond what I even expected eventually leading me to win Best Wedding Entertainment Award in 2019!
What inspires you?
Mainly music – but anything CREATIVE! Creating new music and creative content is a passion for me and seeing other people do the same is really what inspires me!
How has covid-19 affected your business?
COVID-19 has affected my business drastically with numerous cancellations and postponements to next year! However, a second branch to my business operations is online music lessons so that has kept me busy. Additionally, the extra time has allowed me to really focus on building my youtube/Instagram platforms and create content that I love and people love.
In 2019 you won the award for the best wedding entertainer, describe the moment to us?
Honestly, it was unreal that was probably one of the highlights of 2019 for me! I graduated with Master Degree that day AND won the best wedding entertainment award – so I will remember that day forever!
It's motivating to see that my hard work is being recognised in the industry. It has really motivated me to now continue to improve and expand into new areas in line with my passions.
What do you think will be the future of weddings?
I think it's hard to say long-term – but short term definitely I think events will be much more intimate in terms of number of guests. Secondly, I think due to the economic impact on everyone in the industry we could potentially see couples pulling back on how much they spend on weddings due to the uncertainty we have just experienced due to COVID.
But long term I do think we will be back to normal.
If you were to pick a celebrity which wedding would you like to perform or would like to have performed at and why?
Honestly, I have no answer for this aha!!
What is the future for Grand Singh Music?
Firstly, I will continue to perform at weddings but I really do want to expand my business operations as well as weddings but performing at corporate events. I did have a start at this In February this year where I performed for the Tim Hortons/Dominoes Annual conference in the UK! I also hope to perform at an international wedding in the near future.
Outside of the events industry I am really working on my social media presence (Youtube, Instagram, and Facebook) and see what opportunities that presents me in the near future.
A message to the readers who want to follow your steps
I would say just pursue what you are passionate about – if its music, art, video or anything creative just pursue what you love doing and eventually it will come into fruition.
Make sure you follow him via his social media links.
www.instagram.com/grandsinghmusic
www.youtube.com/grandsinghmusic
www.facebook.com/grandsinghmusic
You can follow me at Follow @Kulwinder91