Exclusive 'Bhangra By Christine' Interview!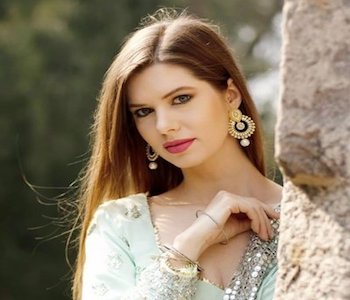 Rupinder had the opportunity to catch up with Christine to talk more about her life and how bhangra became a part of her life.
As you all know there are many individuals out there who like to pursue their career in dancing however find it difficult to get their talent shown to a wider audience.
How many people on social media have heard of 'Bhangra By Christine.' Christine is an extremely talented dancer who has posted many videos showcasing her dancing which has led to an overwhelming fan following. Not just that, she has also been doing her own workshops which have been successful.
Hello Christine, welcome to Simplybhangra.com. Firstly, can you share with us your background and what sparked your passion for Bhangra/dancing?
I was born and brought up in Denmark by a Danish mother and a German father. I've been living with two cultures my entire life and, just like my parents, always had an interest in other cultures.
First time I came across Punjabi music was in 2002. I didn't know where the language came from, but always felt connected to the music. So, when I saw Bhangra for the first time in 2012, I just knew I had to learn it.
From what point did you want to pursue that dream of dancing? What was the path like up to now?
I've always been a dancer. When I was 3 years old I started learning ball room dancing. I didn't like it much, but never questioned it.
At home my sister and I would play "dance class", where one of us had to teach the other. I always wanted the role as the dance teacher, not the student. It drove my sister insane, but I guess I always had a passion for teaching haha.
As a teenager I knew I wanted to do something bigger out of dancing and wanted to travel and teach at the same time. But I had never imagined I would learn a North Indian dance style and actually teach it to people in North India.
Were there any doubts when you decided to take your first step down the dancing line?
Dancing has always been a part of my life. I taught my friends at school and loved to assist my dance teacher in class. So, it has always been very natural to me.
I guess going to India for the first time was the only doubt I had. In 2013 I was invited to Mumbai and I wasn't sure about it. I wanted to go, but knew my fear could ruin that dream of visiting India. So, I printed out few pictures of streets of Mumbai and put it on my fridge as a motivation. It really helped!
Was it hard for you to create a platform for yourself to showcase your talent as an individual?
It was never a plan to do so. I was using social media like other people in my age. Started sharing pictures from my trips to India. Nothing fancy at all.
I have a degree in International Business Communication, so using social media for PR was something I had learnt. I started using it to promote my dance classes in India and in Denmark. Not many dancers made dance videos back then, so my Bhangra videos went viral in no time. Suddenly it happened to every video I posted. It's all been a big coincidence.
You definitely have uniqueness to your style. What would you say sets you apart?
To be honest I don't know what my style is. I like to change it according to the song. But I guess most people would say I have a certain style. I think the most obvious thing is, that I never cared about competition. My arms aren't always 100% straight and my steps aren't always 100% clean.
But I really don't mind it as long as I have fun and other people enjoy watching it. That is what dancing should be. Not a competition, but joy.
On social media we have seen you love the Punjabi culture and wearing Indian outfits. What is it about India and the Punjabi culture you like?
I love the colours that Indian outfits have. Denmark's fashion is very grey and black. They would call it classy. I don't like blending in. I've always loved playing with colours and sparkling jewellery.

India gives me peace. Denmark is a country where people suffer from a lot of stress. I don't experience the same level of stress in India. Being there makes me calm.
Denmark is very materialistic compared to India. We spend so much money on unnecessary things. Even I do! But when I go to India I remember that other things matter in life and that I should rather appreciate what I already have than longing for things I don't have.
When did you start learning and understanding the language?
I started learning Hindi when I was working in a Chandigarh office in 2015. My co-workers would talk to each other in Hindi and I would be curious to know what they spoke about. So, I bought a few books and started learning at home. Hearing the language every day makes me learn it as well.
I never had a teacher. I was self-taught somehow. I'm not fluent at all. I still have to concentrate a lot to understand Hindi and Punjabi and I don't have the courage to speak it yet. That will hopefully change soon.
What challenges have you faced?
I haven't faced many unusual challenges. Only challenge would be, when people become racist. I've had other dancers and companies tell me, that they can't support me because I'm "white". I've heard sentences like "Sorry Christine, we can't support your workshop since you are white. But we would be more than happy to collaborate on a video with you".
Doesn't make sense to me. You can't support me, but you don't mind taking advantage of me? I've also had companies saying "Hi Christine. We would love to collaborate and send you products. Unfortunately, we can't share the pictures/videos because you are white".
What strikes me is, that these people have an Indian background, but live in western countries. Imagine if it was the other way around.
What are your thoughts on the barriers and inequalities which that imbalance presents and overcoming them?
I have learned not to care about other people's opinions. I'm doing what makes me happy. If 1 out of 100 thinks I shouldn't be dancing Bhangra or promoting Punjabi culture all over the world, then I don't care. The other 99 people enjoy it. It's about staying positive.
Besides dancing what other things are you involved in?
This is my full-time job. Bhangra by Christine is a company and I run by myself. So that's what I do with all my time.
Who influenced you the most in the dancing world?
I don't think any dancer has actually influenced me. All my friends help me learn as we make videos together. They teach me new steps and correct my flaws, which I really appreciate and enjoy.
What type of projects would you like to work on? Would you like to be part of a Punjabi music video?
I have worked in several music videos but teaching and creating my own videos is my passion. So that's what I'll continue to do.
Thank you Christine, for taking time out with us to talk about your life and career and we wish you all the best for your future projects.
You can follow me at Follow @rupinder_rainer