Interview with Subaig Singh!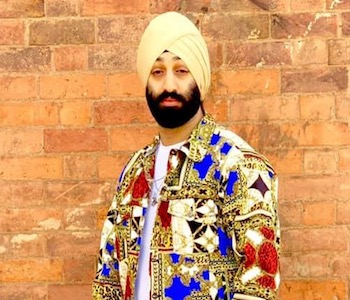 We caught up with UK born singer Subaig Singh to discuss his career, music and future projects.
UK born singer Subaig Singh entered the industry with his debut single 'Tere Jhoothiye Ni Laare.' Folk Punjabi music is a passion which he wishes to follow such as the international icons Gurdas Mann, Kuldeep Manak and Surinder Shinda.
Can you tell us how your journey has been in the music industry so far?
I have had great fun over the last three and a half years. Music has given me a new lease of life and I feel that I have a newfound purpose to get up every morning. I get a lot of pleasure from singing, performing and making music videos. It gives me the chance to be creative, to travel and explore new things, and I find it all very fulfilling.
Sure, there are ups and downs in any line of work, but I honestly feel like I was born to do this so I'm happy to accept the rough with the smooth. I don't need to do this for the money, it's all about pleasure and self- fulfilment for me. It has been a steep learning curve and I have learnt and improved so much over the last few years.
You have released several tracks in 2019. How would you say you have grown?
I try to grow and evolve all the time. My look and dress sense have changed. I have experimented with new music producers, video directors and new styles. From Bollywood style tracks to modern bhangra and even a religious track, using different tones of voice and singing in different keys, it has been quite a diverse year for me.
I think I have improved, both as a singer and as a performer and I hope to continue to do so but ultimately it is for the audiences to say!
You can follow me at Follow @rupinder_rainer
Writing lyrics seems to be an important part of what you are as an artist, you definitely get a feeling that on tracks that you are really into the song and going through the motions when you are singing. Do you feel comfortable singing songs that you don't necessarily relate to, or had any input towards?
Definitely not. The lyrics are the bedrock of a Punjabi Song. It's lyrics first, melody second and music third, in that order, in my opinion. I like my lyrics to be simple and catchy, whether that's a beat song, an urban track, sad, romantic or even religious. The lyrics have to be memorable in some way.
Lyric selection is a very important part of the process and I spend long periods of time discussing lyrics and going back and forth with my song writers until we find something that we are both happy with. The music producers also have a big say in whether they can work with the lyrics as well.
If there was one vocalist you could collaborate (do a duet) with who would it be and why?
I really like Jenny Johal, Nimrat Khaira, and Sunanda Sharma. All three have great voices, are great performers and have great on-screen presence.
Looking back at 2019, what track would you say you spent the longest on, or the song the possibly gave you the biggest problems in terms of 'getting it right'? What points do you consider before deciding whether or not to take on a project?
I spent the longest on my two Bollywood tracks Damn Damn and Koka Belly Da with Harry Anand. The reason was that these two songs were different to my usual base style of traditional Punjabi Folk singing. It took me a while to get my head around the new melodies and styles of singing in these more commercialised, Mumbai style nightclub songs. But I am very glad that I did it.
I am a much more versatile singer, thanks to this experience. Before I select a song, there are so many things to consider. I have to look at the lyrics, whether the song will suit me and also at current market trends at the moment. I have to check the new project against my previous catalogue to see if it is a repeat of what I have done before or if it is adding anything new or worthwhile or helping my career in any way.
I also had to consider the new look and how it would be perceived by the Punjabis who I know definitely prefer my folk singing. Overall, I'm happy that I did the tracks as it allowed me to experiment and reach different audiences and added more variety to my repertoire.
Other than Bhangra, what other genre of music do you really enjoy listening to, or maybe take inspiration from?

I have always been a fan of Dhad Sarangi. Powerful, traditional Punjabi singing in Gurdwaras about Sikh History and its many heroes. This has always been my favourite genre, coupled with traditional Punjabi Folk of the Kuldeep Manak and Surinder Shinda era.
I can appreciate all types of music, and if it sounds nice, I am happy to listen to it. Now that I am an active member of the industry, rather than just a casual fan, I am even more open to listening to all genres, as you never know where that next piece of inspiration will come from.

India has now become one of the main markets to crack as an artist, a decline in sales in the UK means that a lot of artists are now looking at India for big sales. Do you make your music with this in mind?
Yes definitely. Prime importance has to be given to how Indian audiences will react to a song. India takes by far, the greatest chunk of the global Punjabi music market. If you are sure that Indian audiences won't be feeling a certain track, you really have to ask yourself some deep and searching questions as to why you are releasing it, in my opinion. Of course, globally, tastes are varied and people like all kinds of different things.
There is no single genre or song style that is catch all and will appeal to everyone in one go. Hence the importance of releasing a multitude of different songs in different styles to cater for different audiences. I think the most important thing is to have an objective or a target audience in your mind before releasing a song. If your prime objective is only to please yourself, then that is a different matter and the above does not apply.
Social networking is the ways forward to advertise and promote what you do. How much do you rely on it?
Social media is huge. It is by far the most important platform to get right. The more you put in, the more you get out of it. It is also the only objective and measurable way of gauging your popularity and your reach in the music industry.
Apart from the glamorous side of being in the music scene, what are the negative experiences you've had to go through?
There are plenty of crooks and snakes in the music industry. There is a dark, negative and murky side to it for sure. But to be honest, going into the grim details, would involve naming and shaming and that's not something that I am prepared to do I'm afraid. I'm sure every person involved in the industry has more than a few horror stories to share about their experiences.
It's a part and parcel of the game and you have to take a philosophical approach to it otherwise it will drive you crazy. We are part of the industry out of choice, so we have to take the rough with the smooth, or choose not to be a part of it at all.
What have you got lined up in 2020?
My brand-new song Warrior is releasing on January 16th, 2020. It's a powerful song, exalting the bravery, courage and martial prowess of Sardars. The song is written by Laddi Gobindpuri, music by Popsy The Music Machine and video by Rimpy Prince.
It's a very different style of track for me with its heavy, aggressive old skool hip hop style, and I hope that it is one to get the blood flowing in the veins.
There are lots of other songs on the way. One song of note is produced by Deep Jandu and lyrics by Karan Aujla... again this is a very different style for me.
I am also featuring in a small film role in a new Bollywood film called Taish, which will be releasing later this year and is directed by award winning director, Bejoy Nambiar.
Thank you for taking the time out for this interview. Do you have any final words for your fans?
First of all, I want to thank all members of my team. My mother, Kulbir Kandola, who produces all my work and supports me in all my efforts. I wouldn't be able to do this without her. Also wanted to give big shout outs to Popsy, Kully from UK Premier PR, Laddi Gobindpuri, Happ E Singh, Rimpy Prince and Harry Anand for all their love and support.
I wanted to thank all my fans for their blessings and encouragement. I really hope you like my new song. Please do share and support it and let me know what you think. Finally, a big shout out to the Simply Bhangra team for everything you have done for me and for being there from the very beginning of my journey. God Bless.
Thank you for taking time to discuss your views and career. Wish you all the best with your future projects and upcoming release!