Catching up with Noreen Khan on Galwakdi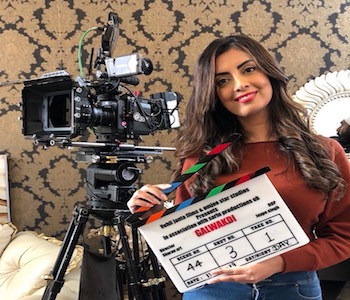 Rupinder Rainer got the opportunity to catch up with Noreen Khan to ask about her experience on the short role in the upcoming film Punjabi movie Galwakdi.
Award winning TV and radio presenter Noreen Khan recently finished filming a short role for an upcoming film Galwakdi alongside international artists Tarsem Jassar and Wamiqa Gabbi.
If you have ever heard or seen Noreen you will know she is a bubbly and lively individual who always like to try new things whether that's opening her own clothing label to Comedy Nights.
Hello Noreen, firstly congratulations for your debut role within a Punjabi movie. So can you tell us how did you get the role in the film?
I was approached by a casting agent who knew of me and said I think there's a role you'll be good for. I went to a meeting and met the director and producer. They liked the fact that I knew quite a lot about Punjabi cinema and that I could speak the language. They told me about the role and that it would only require a few days of filming in Birmingham. I then said yes!
Without telling us too much about the film what is it about?
The film is based around the main character played by Tarsem Jassar who is kind of socially awkward and his relationships with family and others. It's got your usual mix of comedy and good music too.
What was your experience working alongside Tarsem Jassar and Wamiqa Gabbi?
I actually did scenes with both and they were very really kind and professional. Wamiqa was very sweet as she realised I hadn't really acted before and gave me quite a few tips!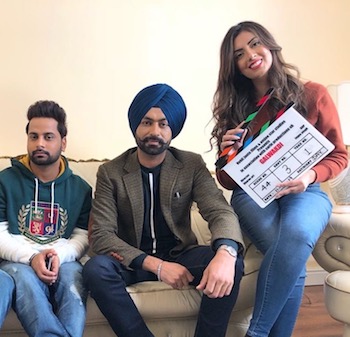 Has acting been a passion?
To be honest I wouldn't say it's been a lifelong passion but it's always something that I thought I'd like to try one day. If you know anything about me it's that I thrive on being pushed out of my comfort zone. I think it's good for your personal growth and development to try new things that push you somewhat.
How did you feel shooting in Punjabi?
Ok so this wasn't easy! Everyone on set spoke such fast perfect Punjabi that I really had to ask them to slow down a bit so I could get to grips with my lines. So as you can imagine not only am I acting which is sort of new to me but I'm having to deliver lines in Punjabi. Btw I should explain that the Pakistani Punjabi I speak is kind of different to the Punjabi from India!
What challenges did you face?
Having to deliver lines quite quickly which were only rehearsed an hour before my scenes! This was due to some of the lines being changed very last minute. Once I got the hang of them I was fine.
What did you learn during this opportunity?
A lot! Pretty much how you shoot scenes, deliver lines and act. Plus found it fascinating to see how the Punjabi film industry works as I spoke to a lot of people on set to get an idea of how it all comes together.
After shooting for the film would you say you have become more confident? If yes please give examples.
Yes I could now go onto a movie set and have a better understanding of how it all works. I'm also more confident to speak Punjabi in front of a camera now too!!
What would you say to our readers who wish to enter this field?
I'd say contact casting agents in the U.K. and start off trying to get small walk on parts to see if it's something you'd like to pursue. Then keep auditioning for roles that interest you. Also watch a lot of Punjabi cinema to have a better understanding of the field you're entering and finally best of luck!
Thank you Noreen for taking time out to talk about the film and your experiences.
Noreen Khan (@DJNoreenKhan) · Twitter
Noreen Khan (@officialnoreenkhan) • Instagram
You can follow me at Follow @rupinder_rainer