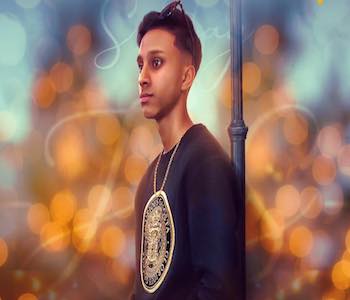 A fresh air to the Asian UK Industry S-Jay, made a remarkable impression with his debut release of 'DHOOR'. We caught up with him to find out more about him and thoughts on the Industry!
For those who might be unaware, tell us a little about who S-Jay is?
I am a British singer and songwriter, I live in a small town in the south. I am a 17-year-old upcoming artist paving my way into the bhangra scene.
I have recently has just released my debut track DHOOR which is a Cover version of Sadeya Para originally sang by Sardool Sikander. Music has always been a passion of mine, I have always taken singing seriously. It all started when I would be around my friends and family, they heard me sing and convinced me I should act.
I couldn't have done this without my family who have guided and supported me through my journey, alongside with my teacher POPSY and producer M-Digz.
I am just a normal guy who is turning his passion into profession. I have the capabilities to sing in English, Punjabi and Hindi. I have always loved to sing ever since I was a child. I'm also very excited to see where my journey takes me...
You released your debut single Dhoor as a free download. How do you feel the response was for that single?
My response from people regarding my Debut single, has been absolutely overwhelming all the attention, support and kind words from the fans has been excellent. On social media I have consistently been uploading my debut track so that my followers are aware that it's available on Soundcloud as a free download.
Many people have contacted me asking where they could download it. So overall, I think the response from everyone has been massively motivational and heart touching...
As a relative newcomer to the Bhangra scene, you along with others are always susceptible to criticism, especially as UK born vocalists. What would you say to those critics?
As a relative newcomer to the UK bhangra scene I think that everyone has their own opinions on music. I think receiving criticism is the reality of life. My reviews have been positive so far and I hope it stays that way, but if there are people who are going to criticise. I will leave them to it because everyone is entitled to their own opinion.
All constructive feedback is valuable to me because it gives me a chance to improve and learn. Many artists hold onto their work, afraid to release it into the world for fear of what people will say. But if taken the right way, putting creative work up for judgment is one of the best tools an artist can have...
Do you think newcomers are given much of a chance by the general audience? Is one song good enough to judge a upcoming producer/vocalist?
Releasing your first song is very important because you're giving the audience a first impression of who you are. Therefore, releasing one song is enough to judge an upcoming singer. This could be positive or negative.
I think newcomers are given a chance but it up to them if they want to put in the effort and dedication in – order to become successful. Most artist start off singing in pubs so they can get recognised.
The top bhangra singers have been noticed because they have built a unique image which shows what kind of personality they have. They get on social media and get people to follow them which helps when building a fan page.
The general audience can be very supportive, but you just have to ensure they like your music. personally, I think releasing one song is not enough because to build a strong bond with the supporters you have to consistently share and upload music videos.
The UK Bhangra scene has more recently moved towards singles as opposed to releasing full albums. As a newcomer do you think releasing singles have their benefits?
It's better to release a single track, because if one song can get recognised you can be assured that others can. It's extremely beneficial for an artist to release a single first because they will be better off in the long term. That's because getting a single out also build momentum and motivation to keep moving forward.
This can help different upcoming artists. It's an easier way to get recognised. Also, once you've released one single is best to release another single. After a few singles are released you will have a few songs under your belt, this will help you release even bigger works on the next single.
Singles alone can become hits; Punjabi artists are still releasing albums. So, personally I think that releasing singles have their benefits.
Do you think UK born singers are often overlooked by UK producers; who are quick to go to Panjab for vocals, or often simply buy online?
I think many top singers are located in India. This is why producers in the UK would rather work with them. However, I think more people in the UK are recognising Punjabi music which is great!
Brit Asia and PTC are influencing the UK beneficially making Bhangra and Punjabi more popular. This will help the chances of the UK born singers. Also, I don't think that UK singers are overlooked by producers. They are unsure of how to get in contact with them so that can make a move and create something.
What are your plans for the next 12 months?
My ambition is to release music consistently worldwide I would also like to be given the chance to sing in a Punjabi/ Bollywood movie. This is only the beginning of my journey so stay tuned and keep up the support...
You can follow me at Follow @rupinder_rainer