Catching Up With Aastha Gill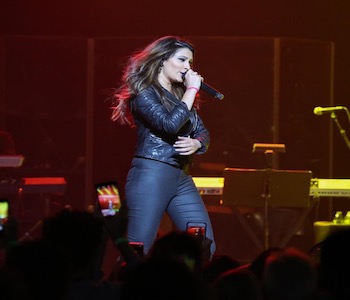 Rupinder Rainer caught up with Aastha Gill who recently released her new track entitled 'Saara India.'
Indian playback singer Aastha Gill started her career in 2014 alongside Badshah and Raftaar with the track 'Dhup Chik' for the Bollywood film 'Fugly.' Even though her tracks have been a great hit, two of her biggest hits would be 'Abhi Toh Party Shuru Hui Hai' and 'DJ Wale Babu.'
Not only has she made a mark in the Bollywood industry, but has also entered the Punjabi music industry and worked many times with well-known international rapper Badshah.
Hello Aastha and welcome to SimplyBhangra.com.
Firstly, congratulations on your new track 'Saara India.' Can you tell us a bit about your track?
After 'Buzz' I'm back with another single called 'Saara India' and it is all about travelling in India to different places. It's a very happy, cheerful and fun song.
You have worked with Priyank Sharma for the track 'Buzz' and now in 'Saara India.' What is it about this collaboration that you wanted to work together again?
Yes I've worked with Priyank Sharma after 'Buzz' again in 'Saara India' and that is just because he is a sweetheart and I love him. Our chemistry was good and people loved us. He's also a good friend and I loved working with him in 'Buzz' so I couldn't think of anyone else.
When making the video or finalising the composition what elements did you think were important to make this song unique?
So the elements that we thought of while making the video were that it should first of all look very colourful and vibrant as what the song was demanding. Also, that it should have a happy vibe, have summer feels and romance and something that people can connect to, so we showed travel because everyone loves travelling.
We used seven means of transportation in this video from a cycle to a yacht. For the composition and the song what I felt would work is the lyrics because people can relate to the lyrics and it's very different from 'Buzz' and I haven't done something like this before.
How is working in the Punjabi and Bollywood industry different?
Working in the Punjabi and Bollywood industry, the challenge was just for me to speak Punjabi. I had to work on my accent and I practiced. The good thing is that the producer and lyricist of the song actually sat with me and made me practice and they were very patient about me recording this because I took a couple of takes because of the accent.
What do you enjoy about being in this field?
I think I enjoy being on stage the most, then after that I enjoy meeting people and recording in the studio. These are the three things I enjoy the most in this field.
What projects do you have going on at the moment or are expecting to work on in future?
I am working on a couple collaborations, a couple of Bollywood songs and my next single which will be out very soon.
I would like to thank you guys for your time and thank you for interviewing me.
Thank you to Media House Global for giving us the opportunity to catch up with Aastha to talk about her new single!