Catching Up With Himmat Sandhu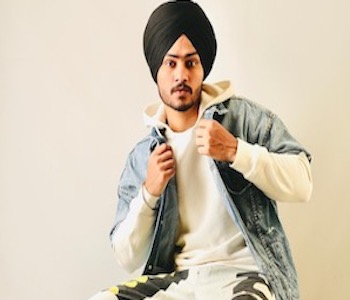 Rupinder Rainer had the opportunity to catch up with Himmat Sandhu who told us a bit about himself and his career.
Punjabi singer Himmat Sandhu who at such a young age has been extremely successful in this competitive music industry. Not just that he participated in 'Voice of Punjab Season 7' and showed his capability as a singer and reached all the way to the finals.
Since his debut single 'Saab' Himmat has released many songs such as 'Dashboard,' 'Bodyguard' and 'Charche' which have been liked by his fans. His success can be seen through his large fan following on his social media pages.
Hello Himmat Sandhu and welcome to SimplyBhangra.com!
Hello, thank you so much!
So, can you tell us a bit about yourself and your childhood?
Well, I am from Uttar Pradesh (UP) but live in Chandigarh. My childhood was the same as everyone else, nothing special or different. I went to school and studied up to Plus 2 when I then decided to move into the singing line.
I participated in many competitions in school and I always topped them. I always had a lot of interest in music and singing from a very young age. It was my passion.
How did you start your singing career?
As a hobby, my Thaiya Ji (Dad's older brother) used to sing at home. However, he did not take this up professionally. When I listened to him sing you could say that also built my interest to go into this field. Then I started to take this a bit seriously and I learnt from my teacher in Bathinda, Baldeep Sir for about 2 years.
What has been your best memory in your musical career?
It would have to be the release of my first song 'Saab' which was composed by Laddi Gill and written by Gill Raunta. It was a shocking moment because first the audio was released and I didn't expect such a great response from just my audio. People called me 2am/3am praising my song.
One thing I would say is if I have ever struggled then it is in this field. And to receive an overwhelming response I could have not asked for anything more!
Which artists inspired you?
When I was young I used to listen to singers such as Kuldeep Manak, the Late Surjit Bindrakhia and Amar Singh Chamkila. My inspiration comes from the music artists release rather than getting inspired by individual artists.
Which artist do you want to work with?
When deciding which script to take I don't look at who my co-workers will be and then decide. It is the work of a team which makes a project successful and the most suitable people will be chosen. I will not keep in mind that I want to work with a certain artist. I like many artists.
I am not one that interacts with many artists in the industry so I think everyone is great.
Being a successful singer in the industry, are there any other fields you want to go into?
I also have an interest in learning how to compose music. So hopefully with God's help I wish I can fulfil my dream and be able to show this to my fans in the future.
Artists go into acting but I didn't know much about acting when I first started. However, having acted in a variety of music videos for my songs I can say that 'Yes I can act.' These skills I hope to demonstrate through my music videos and show even more variety in the future.
I have received film offers however I have not really liked a script which I think I should do as my first movie. I'm just waiting for the right time.
Some think once you have become a singer it is easy work. What are your views on this?
Well, I am always running around to get more involved and finding the most suitable lyricists and music producers to provide good songs. This hard work has paid off as I am currently doing back to back video shoots.
If you were not a singer what would you have been?
I would have loved to be a farmer, I would have been a very good farmer. I've never thought of wanting to go abroad or anything on those lines.
What have you got lined up for us in the future?
I have many songs which have been sung and are ready to be released however have to think when it is the best time to release them. I am hoping to release my next song end of May or in June however this has yet not been confirmed. So, I can't say for sure.
Thank you Himmat for taking time to talk to us and wish you well for your future projects and hope to catch up with you again soon!
You can follow me at Follow @rupinder_rainer