Exclusive Interview With Kaos Productions and Deesh Sandhu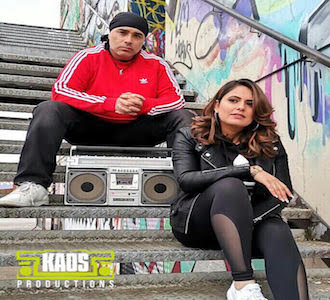 Rupinder Rainer caught up with Kaos Productions and Deesh Sandhu a new artist into the Punjabi music industry, to find out about this new journey.
It was recently announced Kaos Productions introduced a new artist into the Punjabi music industry, Deesh Sandhu. Kaos Productions have composed tracks for artists such as Gurj Sidhu and Gurj Sidhu.
So many of you must be wondering who is Deesh Sandhu? She shared with us her background and what sparked her passion for music.
Deesh: Hi my name is Deesh Sandhu, born and brought up in West London now residing in the Midlands. I'm a banker by profession. Music has been my passion for as long as I can remember. I've always been a fan of Jagmohan Kaur & Surinder Kaur. My father is a fan of Yamla Jatt and Amar Singh Shonki, my mother a fan of Jagmohan Kaur and Gurmeet Bawa...so I was listening to certain types of music my whole life. I was brought up in a traditional Punjabi family from manners to music and singing in Punjabi has always been second nature since childhood.
It is always great to see people introduce new artists into a competitive industry. But to really standout the crowd there needs to be something unique in an individual to be successful in the long run.
Kaos: Deesh immediately got our attention with the powerful folk vocals. The fact that she is UK born and sings the way she does was hugely influential in our decision to work with her. Add to that her natural confidence on camera we feel we have someone with massive potential.
It's important to know when it is the correct time to put your talent in front of an audience without rushing it. We asked Deesh from what point did she want to pursue that dream of singing professionally?
Deesh: To be honest I didn't realise my own potential. I was singing at weddings and family events but only started getting serious about it when I was praised during my uni days by like-minded people, who encouraged me to take it to the next level. From there my family saw something in me and have supported me all the way.
People think it's easier to enter the music industry if they have the correct contacts. Up to some extent this may be correct however it's not impossible for someone from a completely different family background to enter.
Kaos: Deesh sent an email off the back of watching an interview on YouTube. This was followed up with some home videos of her singing and we eventually met up for a chat. She came across as hugely passionate and focused, the qualities that a producer really looks for when working with an artist.
Many questions arise in peoples head before they decide which career path to go down. There is this fear of thinking if taking music as a professional career how far will I get? Will it be worthwhile?
Deesh: It was not an easy path especially coming from a traditional background and being a banker by profession. Keeping the balance especially time management hasn't been easy but it's very important to give my all towards my dream. I truly feel it's the right time to step into the music scene as I'm mentally prepared for it and blessed that I have met the right individual in Amo Hayer to be my mentor and producer. It's been a very exciting journey so far and there is so much more yet to come.
One topic which is bought up many times is the fact there are many successful female artists in the industry especially in India however the UK has not reached that level.
Kaos: We feel that because the U.K. bhangra music scene has historically been dominated by male singers, there is definitely a huge amount of scope for a female artist to come along and smash the scene. The female scene in Panjab is huge and those artists have done huge globally. We will be working very hard to harvest support from the U.K. audience for a homegrown talent to make a mark on the Panjabi global scene.
Deesh: I personally don't think there is a lack of talented female Asian artists out there however...there can be a few factors that can portray that image. Other family responsibilities take over your life and your pathway ends up in a different direction. Sometimes families may not approve of their daughters/sisters/partners getting into the music industry, due to their own fears or personal concerns, from rumours of how a previous female may have been treated which could have been off putting.
Family pride or honour due to misunderstood messages of what the industry is all about could be a factor. At the end of the day cultural issues and social stigmas are still sensitive topics to address for many. I think the industry is doing a decent job of helping to expose new talent but at the same time you have to chase your dreams and make them happen if you truly believe that you have a talent and the passion for it.
I'm just blessed to have a supportive family and a fantastic team, that's why I'm here now.
There are many barriers faced by individuals when entering into a career which they wish to pursue in the long run. We asked Deesh what her thoughts were for the inequalities and barriers females face?
Deesh: On a personal level it's sad to hear such question still being asked in today's time....women are capable enough of doing anything. One thing I have learnt from Amo Hayer is the fact that situations will always be the same regardless of being male or female, it's all about how you handle them.
We have seen the power and force that women have especially in 2018 which was also about the 'Me Too' movement and the impact it had especially when high profile women were undermined. If any unfortunate cases do arise then strict laws should be in place where everyone should be bound and be obliged by it. We have freedom of speech and we should all learn to speak up.
I am looking forward to an amazing year and I have a lot of hard work to do, but hope that with that drive, dedication and the support from listeners and established media outlets like Simply Bhangra, I can represent myself, my gender and my mentor positively, whilst establishing a presence in the U.K. bhangra music industry.
The younger generation are more eager to go down the line they enjoy the most. They have big dreams which they wish to fulfil and they start this process from a young age. As such a young artist, it must be both exciting and intense for Deesh to be mentored by Kaos Productions. So, what is that experience like? What did it involve?
Deesh: I've met a few musically related people and producers, but being a selective person myself I knew what I was looking for in a mentor. The funny thing is that I accidentally came across Amo Hayer, via an interview on YouTube. Even though I have heard his music, I got to know quite a bit about him as a person through the interview and was left pleasantly surprised as to how similar we were from our backgrounds to life experiences....I knew then that I had to contact him in the hope that he would see certain musical qualities in me.
Working with one of the best producers in the UK comes a great sense of responsibility though, as to represent Amo Hayer and Kaos Productions I know that I need to meet standards and that involves discipline, dedication, respect and passion. It has been an intense 2-3 months but it's a really exciting time.
It involves a great deal of singing, that's for sure! I'm learning so much and looking forward to everyone seeing what we as a team have been working on.
So the next question is what will we see from both Kaos Productions and Deesh in future?
Kaos: We are working to promote Deesh with videos of her singing uploaded on the Kaos Productions YouTube channel. Further to this she has been booked for her debut performance at Hayes Mela on May 5th with Manmohan Waris and Kamal Heer headlining the event.
A debut track is being planned and more information will be available on Deesh's social media soon.
Thank you to all at SimplyBhangra.com for their continuous support of the Panjabi music scene and taking out the time to speak to us, we appreciate the support!
You can follow me at Follow @rupinder_rainer