Exclusive Interview With Preet Judge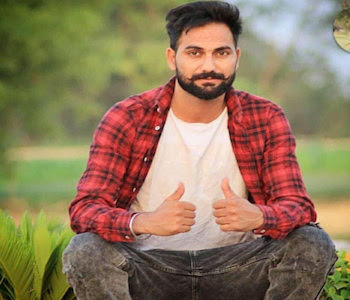 Rupinder Rainer caught up with the man who penned the lyrics to tracks such as 'Jatti Di Pasand,' 'Jatt Di Queen,' 'Kuwari' and 'Phulkari' Preet Judge to ask about his career and experience in this field.
There are many successful artists behind the scene who are not as well known as singers but have had a massive contribution in making these songs and singers successful. So, should all the credit go to the singer? What about the lyricist that wrote the much-liked lyrics and the music producers that produced a great beat?
Hello Preet welcome to SimplyBhangra.com. So, what inspired you to become a lyricist?

I used to listen to Debi Makhsoospuri from a very young age. Well I used to listen to many artists however the lyrics to Debi Makhsoospuri's songs and poems were very inspiring. So, I started with poem writing when I was in Plus 2 then slowly I tried to write lyrics and go into song writing when I was about 17/18 years old.
What is the most challenging part?

Being a lyricist is very tough in today's market. First you have to write the lyrics but we don't really have any sources and you can't really look for things. You have to picturise it in your head, its not something that we can read upon or listen to. Especially if we want to give something new, fresh and of good quality because there is a lot of competition in the industry.
There are times when as a lyricist we may like the song however the singer might not agree. We have to work on the feedback which we receive from the whole team until everyone is happy with the lyrics because at the end of the day it's the company that's going to be putting in the money.
On average how long does it take you to write and finalise the lyrics?

It varies drastically. Some may take 10 minutes whereas others may take up to 6 months to complete a song. Reason being sometimes it takes time to choose the right words to portray the lyrics in the way you visualise them.
For example, I am currently writing lyrics to a song and its been over a year and I'm still writing it. It all depends on the mood you are in when you sit down to write. Sometimes you are in the mood of writing something of a different genre.
Which lyrics have you written the quickest?
It would have to be Gupz Sehra's 'Vaaraan Teriyan' which was dedicated to Bhagat Singh on his birthday. Gupz rang me around 11.30pm to say we need to release a song on Bhagat Singh. But I said that we would need to release it the following day as it was his birthday.
Gupz with all his dedication said we will release it tomorrow. We didn't even have the lyrics written nor thought about the music composition. Anyways I went to him and wrote the song within 10mins and the music was composed within an hour or an hour and half and then we uploaded it.
You have written tracks for artists. From the artists you have collaborated with who has been your favourite and why?

I have worked with many artists such as Gupz Sehra, Ranjit Bawa, Jass Bajwa, Anmol Gagan Maan, Kaur B, Mohabbat Brar and many more. But my debut was with Mankirt Aulakh 'Kaka Ji.' I enjoyed working with Gupz, Jass and Mankirt in terms of experience.
Name one artist you would like to work with and why?
I would really want to work with Diljit Dosanjh because he is a good singer and I like his professional attitude.
How did you come to associate with some of the biggest names in the Bhangra industry?

I started my career with Mankirt Aulakh, and at that time Mankirt was also struggling. I knew Mankirt because he was my friend's friend but I had no other links in the industry at that time. So, I rang Mankirt and said that I want to do release something and since he knows his music we both agreed to do a song. I showed him the lyrics to 'Kaka Ji' which he really liked and wanted to do the song. But my friend already had that song. But Mankirt really wanted to do this song.
So that's where our friendship started and our song become a hit. After this paths automatically opened and people started to know me.
What are your views on the songs currently being released and its lyrics?

If people listen to songs which involve things related to alcohol and etc then we would write about it because it is our work. There are times when 100% clean lyrics are presented however not many people listen to them. This would lead to a loss for the company as well as the singer.
What things do you consider when penning the lyrics?

The lyrics which I write from the heart makes them more realistic and people connect to them easily. My lyrics usually has a story connected to real life so it would touch someone if not me then it could be someone else.
If you were to give someone advice on how to start song writing, what advice would it be?

Write good lyrics. If you sing the songs yourself then you can be a bit more flexible with the lyrics but if you don't then you have to be dependent on the singer and music director because if they like the lyrics then it will be recorded and then you are never sure when it will be released.
You have released the poster to 'Care' which you have penned the lyrics.

Yes we released the poster which is sung by Gupz. It's a UK style song and it's my first song which is an upbeat bhangra track and it's presented by E3UK.
What would you like to achieve in the future?

I would like to be a singer who people love from the heart. I don't want to be a fake celebrity or do any fake content. I genuinely work hard and don't want to create controversy or fake hype just to get known.
I would like to thank you guys for your time and thank you for interviewing me.
You can follow me at Follow @rupinder_rainer