Exclusive Interview With International Singer, Producer Vee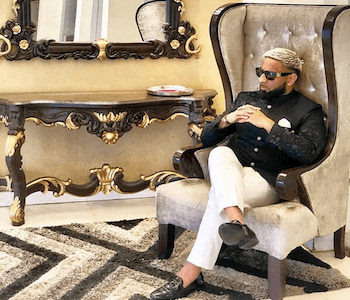 When you mention a song highly likely the first name that would come into people's mind is the name of the singer. Have you ever thought about the people behind the scene who have put the music together such as video directors, lyricists or music directors?
Music is constantly growing and changing over the years. Some artists are trying new ideas on the other hand some are trying to bring back the old vibes.
We caught up with the man who composed the music to tracks such as 'Kill' by Garry Sandhu, 'Tere Te,' 'Lahore' and 'Downtown' by Guru Randhawa, Vee. So what makes one of the best music producers Vee unique from other producers?
Wow thank you for saying that, it feels amazing, I've worked so hard for this so I'm humbled to get the feedback that I am now receiving.
I think what makes me unique, is that I'm so deeply focused on the goal and I don't stop until I've done what I've set out to do. Secondly, I'm a Singer first, so I think that gives me a completely fresh and new outtake on creating music, compared to other producers who may just produce.
So I have a big hand in the vocals, capturing melodies and on the whole creative process of making a song complete.
Everything is continuing in its own way, it all a progression, so you may not even notice because it could just involve adding one new sound that turns it into something new. So it's the same music, with a new twist!
Regardless of which field of work you are in there are always challenges people face, some know how to overcome these however others find it extremely difficult to battle those challenges.
I think it's all to do with perspective, a challenge motivates you to only do better. So I treat every piece of music that I create in that way, and that's what gets me the results.
Seeing how successful artists struggle to get to where they are now may also act as a motivator for people to reach their goals.
And to keep with these changes social media has a massive impact. Not just artists or people in the music industry but with fans also promoting songs makes people aware worldwide of what is out there.
Nowadays there are apps such as 'Snapchat' and 'Tik Tok' which artists ask their fans to use and send them videos. This is another method used to promote their songs.
It's a great tool to use, it's free advertising so I would encourage everyone to utilise every single platform to their advantage. Do not rely on any one platform, and also remember to build real relationships.
Taking about egotistical artists, producers and production.
I don't have any thoughts on it, everyone's entitled to create how they wish to create, if it works for them then that's great. I keep focused on doing what I'm doing and keeping what I do authentic.
Some artists bring exciting music because they avoid the typical beats and sounds and try to bring something new. They are willing to take risk. So what are Vee's thoughts of the contemporary Punjabi music industry? Which artists excite him and are maintaining standards?
I think it's great, it's modern, it's fresh and relatable for the youth. So many artists inspire me, too many to even mention, and I love to think that I'm not only maintaining standards but excelling and breaking boundaries.
We are now able to break into the Billboard charts and do things that are definitely progressive for the Punjabi Industry. It's an exciting time!
So what more can we hear from Vee?
Definitely lots of great music and new releases, you will just have to wait and see that's all I can say for now.
I would also like to say thank you for having me for this interview, and thank you to everyone for the support they have shown. God Bless
We wish Vee all the best for his upcoming projects!
You can follow me at Follow @rupinder_rainer