Exclusive Interview With Akshay Kumar on Kesari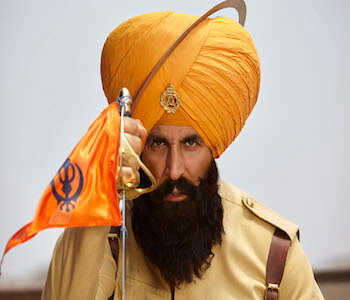 Kulwinder caught up with Akshay Kumar on Kesari an upcoming Indian war film starring him and Parineeti Chopra in the lead roles and directed by Anurag Singh.
It tells the story of Havildar Ishar Singh who participates in the Battle of Saragarhi (in which an army of 21 Sikhs fought against 10,000 Afghans in 1897). The film is scheduled for release on March 21, 2019.

We are so excited to see you perform in Kesari and it's a movie which has been much awaited by your fans since the announcement. So what pushed you to say 'yes' to shoot for the film?

The decision to say yes to KESARI was a very easy one.

When I heard about the story of Kesari I was truly amazed it was based on a true story, the Battle of Saragarhi, a battle that was truly forgotten if not erased from our history. It's the story of the bravest battle ever fought in history between 21 Sikh Soldiers and 10,000 invaders in 18th century India.

A beautiful story that is in honour of "every martyr that has ever lived", the film depicts the bravery, values and valiance of the Sikh regiment.

Tell us a bit about your role.

It's my first war drama and I was honoured and humbled to have had the opportunity to portray such an important role in the history of India, that of Havaldar Ishar Singh. He led the 21 men to fight in the Saragarhi Battle – one of history's greatest last-stands. He fought the battle until death; he is a man of great pride and bravery.
I can only describe this opportunity as sheer pride & I'm so lucky to have had the privilege to portray this incredible Sikh in my lifetime.

What was your favourite dialogue and why?

I'd say 'Aaj meri pagdi bhi Kesari...Jobahega mera woh lahu bhi Kesari... Aur mera jawaab bhi Kesari!'' – I think it is one the best dialogues of my career. Just reciting these dialogues gives me strength. Another one, which become viral and meme worthy, Chal Jhoota. As it's a serious scene and you expect a rather serious retort and there comes this dialogue. As I mouthed it while filming, I knew it was a clap trap.

Favourite song and why?

I love all the songs from the movie, they are all brilliant and really catch the essence of the film and story. One my favourites would be Teri Mitti, it is packed with so much emotion, the lyrics are so touching. While there is a lot of action in the film, this song encapsulates the soul of Kesari.


Who's the target audience?

The special thing about this film is that everyone can watch it and be engaged and most importantly educated. Its beyond a film about war or battles – its about the human spirit. There's something beautiful and emotional about the film. There's drama, action, even romance.

We have tried to tell the story of the battle in such a way that the audience connects to it, which I am sure they will.

I believe the Battle of Saragarhi is such a historic story that not only the youth of India but the youth across the world should know about the story, and what our forefathers have endured to solidify our future.

You've worked with Parineeta in this film, what was that like?

It was amazing; she is a hard working girl, one of the finest actresses of our industry and very versatile actor. She portrayed her character perfectly; and as a fellow Punjabi she immersed into her character really well and did justice to the role. It is great to see the new generation of the Hindi cinema growing and evolving into brilliant actors.

What were some of the challenges you faced during the shooting or within your character?

The biggest challenge for me was to shoot in unbearable weather conditions, whether this was heat in Mumbai whilst wearing my heavy turban to shooting in low altitude locales such as in Spiti. It was a grueling schedule, with a lot of intense action sequences which was quite a challenge as it had to look real.
But when you see the film and how scenic the locations are, and how well it all worked out, it was so worth it.

How easy or difficult was the transition from Akshay Kumar to the character you played?


Havaldar Ishar Singh is the epitome of strength, pride and courage. These are not easy attributes to relive in daily life but the moment you immerse yourself into the time and world that he was living in, what he was facing, those emotions just overwhelm you.

To help me getting into the shoes of Havaldar Ishar Singh my director Anurag Singh just said to me – always remember that this is a true story of 21 sardars who knew the end of this is their death but they will not turn their backs.

Message to your simplybhangra.com fans?

Just love to all the readers and fans, thank you for continuously supporting me. Go and watch Kesari on the 21st of March in theatres near you. It's a film for everyone as both young and old should learn about this monumental part of our history.
And wishing you all a very Happy Holi.
You can follow me at Follow @Kulwinder91