Rupinder Rainer catches up with Jaz Dhami!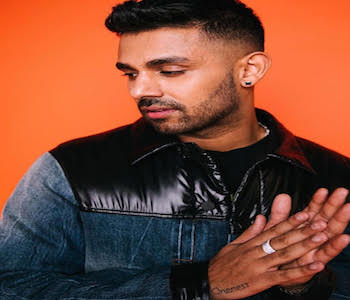 Jaz Dhami always believes in trying new ideas for his projects. We can this his potential through his music and since the release of his debut album which consisted of a variety of genre of music.
Not every song has to be a hit but showing people what an artist is capable of is also important. Throughout the years Jaz took on risks which many artists are afraid of taking however in return has surprised the audience and received a positive response.
Rupinder Rainer caught up with Jaz Dhami.
Welcome Jaz to Simplybhangra.com!
You are known for trying out new ideas and taking risks. How did you come up with the unique concept for your new track 'Kive Dassa?'
I think it was just out of frustration, out of me just taking off them shackles, just making music which makes me feel good. That's what 'Kive Dassa' was about, about me being free and open, not conforming to music that everyone has heard.
Do you think it is important to re-invent in every song you release?
I've been doing that. That has been my aim from the beginning. I've tried to deliver different songs in different zones and different vibes because I want to make music that challenges me.
I think this new phase, the new wave I've been trying to make and its been the making for 2 years which is obviously coming through as you are asking me these questions.
What do you think of the quality of music and lyrics in today's market?
It's interesting! I think people are more open to experiment. Especially in India and Pakistan there's a lot of people accepting urban vibes. But lyrically, wherever you are from, your language comes from that. Every territory has its own way of delivering stuff, whether that's India or UK. So, I think this is a great time for international Punjabi music.
Do you think the music industry has grown outside of India recently?
Of course, North America has been doing really well. I think the UK have been struggling, but now there a few new heads that have come forward and they are going to be pushing the scene and hopefully I can be part of that movement.
Who else do you think would be part of this movement?
I think Gurj Sidhu, Manni Sandhu are doing really well. They have fresh talent, hungry and want to represent the UK sound internationally and they are doing that which is amazing.
Who would you like to collaborate with that you haven't done with so far?
In the Punjabi scene, I think a good collaboration would be someone like Manni. It would be amazing because he has a good vibe and falls in line with what I am doing as well. Apart from that I have worked with everybody else. In the Bollywood scene it would A.R Rehman.
Have you had a time in your life where you have had doubts in your music career?
It was never a doubt, I was always going to do music. This is my love and this is all I know. But the journey has been up and down which has been amazing for me because it gives me more drive to make more music.
Thank you Jaz for your time and future projects. Hope to hear from you again soon!
You can follow me at Follow @rupinder_rainer