Catching Up With Ruby B on Tere Naal!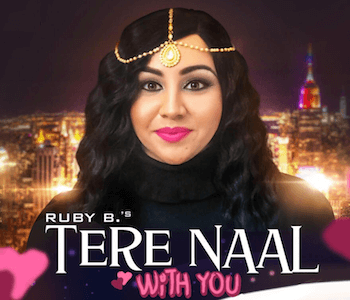 Desi Hip-Hop talent straight out of NYC, Ruby B. fuses the English and Punjabi languages harmoniously through her story telling lyrical ability to classic Hip-Hop/ R&B sounds, we caught up with her on the new release Tere Naal.
Hello Ruby B! Welcome to SimplyBhangra.com! Tell us a little bit about yourself.
Hello! and thank you for having me. I am an American born Sikh Punjaban who hails from the city that was the birthplace of Hip-Hop - New York City, ofcourse!. I'm a multilingual Rap Artist/ Lyricist/Singer and Producer. I just marked my return to the game by releasing my solo debut " Tere Naal" (With You) through Speed Records.
I've been writing rhymes for as long as I can remember and had my first rap feature on a mainstream Punjabi song a couple years back. Previously, I've only done features and mixtape intro's. I call my movement "Sounds Of Uniqueness" because I aim to fuse more than one language harmoniously through my story telling lyrical ability to classic Hip-Hop/ R&B sounds.
You have just released your single titled: "Tere Naal " - tell us how this project came about and your thought process going into this project.
I planned to produce "Tere Naal" to be a unique solo Urban-Asian track, in which I sing the hook and rap in Punjabi and English about an Urban-Desi love story. To my knowledge, this hadn't been accomplished by any Urban-Asian female artist before.
I actually wrote the hook in Punjabi, some time back for a demo to a DJ Mustard beat. As a lyricist, it was important to me to have my hook and rap verses align with one another to tell this urban love story.
What were some of the challenges you faced being a one person show(singing, producing, and acting in the video? Tell us the pro's and con's.
I definitely think it was more time consuming, having to be a one woman show behind the entire project but, I think it ultimately paid off because I've received a lot of positive feedback. If anything, I hope it all showcases my versatility and the fact that I was able to pull off the feat of a self-directed video shoot at some of the busiest attractions in one of the biggest cities in the world.
Urban-Asian music has been massively popular with artists such as Mickey Singh, Amar Sandhu, Pranna, Kay V Singh exploring the same route as you and having huge success doing so. What is it about Urban-Asian music that you think people find attractive?
I think what people find attractive about Urban-Asian music is that it gives you the best of both worlds. With this genre of music, an artist has no boundaries and has the freedom to experiment with western and eastern influences and I think that's why this type of music resonates with fans worldwide.
What advice would you give to an aspiring musician, producer or singer wanting to break into the music industry?
I would say keep perfecting your craft, stay inspired and just be persistent.
What projects can we expect from you in the future?
I plan to continue my "Sounds of Uniqueness" movement. I have a couple of other solo tracks that are in progress but, I am definitely also open to collaborating with other Urban-Asian labels and artists.
Finally - is there anything you would like to say to the readers of SimplyBhangra.com?
A heartfelt THANK YOU to all those who have taken the time to read my interview and to SimplyBhangra for providing me with this opportunity.
Please follow my artistic journey on Instagram @Officially_Ruby_B and check out "Tere Naal" which is available for listening/purchasing on all major digital platforms. The video is out now on Speed Records' YouTube channel, please don't forget to like, comment and share.
Finally, I hope for your continued support and I wish you all peace, love and happiness!
You can follow me at Follow @rupinder_rainer