Exclusive Interview With Binnu Dhillon and Sargun on Kala Shah Kala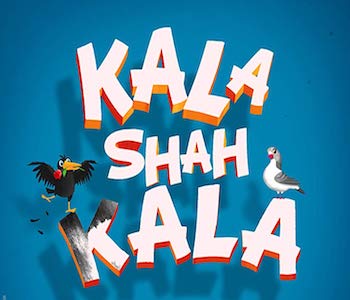 This Valentine's, Naag & Pammi will redefine romance for you in Kala Shah Kala, an upcoming Indian-Punjabi comedy film which celebrates the much maligned and universal butt of jokes the colour black.
Kulwinder spoke with Binnu Dhillon and Sargun ahead of the films release on the 14th February 2019.
Binnu: Hi Kulwinder, right now we are getting ready to go to Ludhiana for the film promotion.
Kulwinder: Great! So tell me why is the film releasing on the 14th February? Even so it's releasing on a Thursday which isn't the norm for Pollywood films.
Binnu: It's releasing it's on Valentine's Day because it is a special film. The film is about expressing love it is a light-hearted movie the duration of the film is two hours and 40 minutes by the end of the film you will not even feel like that the film was that long. We are releasing it on Valentine's Day so that people can buy tickets and gift it one another. We want everyone's thought process to be changed but we have done this in a humorous way.
Sargun: because I'm in it, ahah, just joking. Us actors always want to do something new and this is something new for me. Everyone loved Qismat, I wanted that film to touch and make people feel emotional and that's what it did. This film is a stress buster, in North India everyone has this conception that if your dark you're not good looking you're not glamorous however this film would change your perception of that.
Kulwinder: I see, that makes sense. Tell me more about your character Lovely.
Binnu: my characters name is lovely he's not a good looking and is of dark complexion he is not happy with himself and doesn't have confidence. However this is what the film is all about it is a sensitive topic that we have tackled in a humorous way.
Kulwinder: And Sargun you play the role of Pannu, what's she like?
Sargun: Well she is a fierce girl and not the girl next door. she will back down for anything she always gets away with everything, but this film is how she gets a self in a tangle
Kulwinder: Sargun, were you nervous at any time during the shooting or nervous about the message and how people are going to interpret it?
Sargun: I wouldn't say I am nervous, this message about being dark and not being glamorous or not been accepted has been around for a long time there's so many songs about it like 'Kala Shah Kala' but they're not many films about it but this film will address this.
What I was nervous about was doing comedy as comedy is not what I'm used to doing and working alongside people such as Binnu who's known to be the king of comedy it was just amazing I had so much to learn from him and he always made you laugh on set.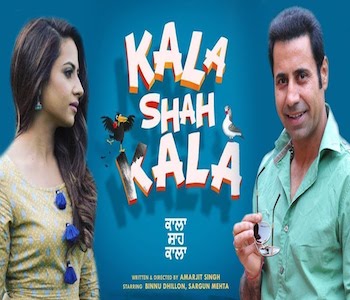 Kulwinder: What's your favourite song in the film?
Sargun: Shaukeen Jatt and the next song Heer which I'll be listening for years to come.
Binnu: Viyah Te Peepniyan which was the first song released of 'Kala Shah Kala'.
Kulwinder: what's next for Binnu and Sargun?
Binnu: right now the focus is on Kala Shah Kala and then the next film is kuriyan lahore diyann.
Sargun: Amritsar - Chandigarh, shot with Gippy Grewal but no release date yet.
Kulwinder: Lastly, why should we go and watch this film?
Binnu: because it is a family film and it's Valentine's Day the day when you gift your loved ones, so want a trip to the cinema to be the gift.
Sargun: this film is a token of love from us to you all.
Kulwinder: Thank you to both of you for your time and we at Simply Bhangra wish you all the best for the upcoming film and wishing you successes for your upcoming projects
You can follow me at Follow @Kulwinder91