Punjabi Movie: Yes I Am Student ft. Sidhu Moosewala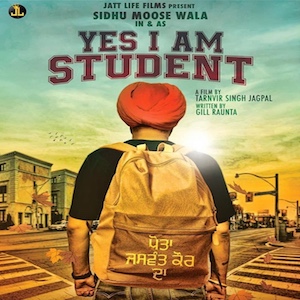 After giving numerous chartbusters like "So High", "Tochan", "Issa Jatt" "Bad Fella", the new age sensation Sidhu Moosewala is making his debut in films.
Yes, you heard it right. Sidhu Moosewala's debut film is named as "Yes I Am Student". Recently Sidhu Moosewala took his social media to share this news with his fans, he shared the poster of film in which his back is shown with a student bag.
From the poster we came to know that the film is being directed by Tarnvir Singh Jagpal and is written by Gill Raunta and is presented by Jatt Life Films.
One interesting thing on the poster is that on the bag, it's written "Grandson of Jaswant Kaur", so there may be a special relationship between Sidhu and his grandmother.
As per the posts by Sidhu Moosewala, film may be releasing anytime in 2019.
Watch the video song Badfella from the latest album PBX 1 by Sidhu Moose Wala in the meantime!
You can follow me at Follow @sunpreetsingh13