Punjabi Movie: Marriage Palace ft. Sharry Mann, Payal Rajput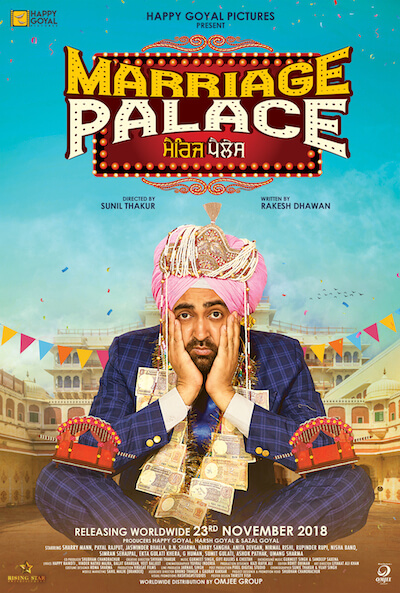 Marriage Palace will take you back to the romantic era of the 90's when love was expressed via letters or music cassettes.
Nimma (Shaary Maan) a village boy visits the city to get the latest music cassettes and whilst there meets city girl Maani (Payal Rajput) whom he falls in love with. Little does Nimma know that the shop he purchases the cassettes from belongs to Maani's dad. One day the letter and cassette meant for Maani is discovered by her father and he decides to confront Nimma by pretending to be Maani.
When he realizes that Manni loves Nimma and he would make an ideal husband, he agrees to the marriage, but on the condition that the wedding takes place in a Marriage Palace.
The only problem is that all three Marriage Palaces are fully booked and only one has a smaller room that would be willing to allow 2 marriages to take place on the same day. Both families agree with this compromise and invite their respected guests who all end u at the other marriage. Nimma and Manni's wedding takes place without a hitch but in the confusion of both brides leaving with their respective husbands Nimma mistakenly takes the wrong bride home. He only discovers this error on his wedding night when he traditionally removes the brides veil.
Nimma's aim is to get his real wife back and return the wrong bride to her rightful groom but due to circumstances beyond his control he ends up failing each time.
How will Nimma successfully make the exchange without putting the reputation of each family at stake forms the usp of Marriage Palace.
You can follow me at Follow @rupinder_rainer