Punjabi Movie: Blackia ft. Dev Kharoud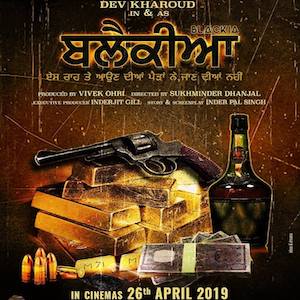 First look poster the up coming movie BLACKIA featuring Dev Kharoud.
Dev Kharoud has emerged as one of the most successful lead actors of parallel Punjabi Cinema. Now, seeing the choice of subjects he is getting associated with, his fans are now even more eager to see what next is up for them from their favourite actor.
Among all these projects, Dev recently signed another Punjabi film titled 'Blackia', which is scheduled for release on 26 April 2019. This film is written by Inder Pal Singh, who also scripted Dakuaan Da Munda. Veteran Director Sukhminder Dhanjal, who previously directed National Award Wining Baaghi and critically acclaimed films like Mela and Kabbaddi Once Again and also the commercial potboiler Lagde Ishq Ho Gaya, will be returning to direction after six years with Blackia.
Produced by Ohri Productions, this one will be based on true events. An inside source revealed that the film will date back to the Indo-Pak war that happened in the year 1971. For all those who don't know what happened during that war, let us tell you that the Indo-Pakistani War of 1971 was a military confrontation between India and Pakistan that occurred during the liberation war in East Pakistan from 3 December 1971 to the fall of Dacca (Dhaka) on 16 December 1971. . Lasting just 13 days, it is one of the shortest wars in history.
Read More Here (GhaintPunjab.com)