SimplyBhangra.com #Bhangra Songs 'January 2023'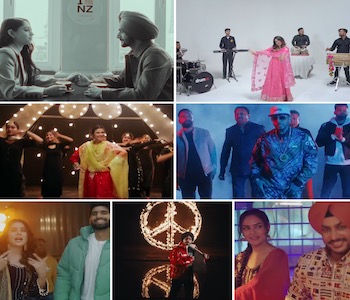 Every month we look back at the songs released in the past month so here are some of our top #Songs of January!
It's almost the wedding season again and as we all know usually the first song at every pre-party is the famous Jaggo, whether that's from the film Dil Apna Punjabi or by Malkit Singh or another version. However, there is now a new version to add to the list and that is Jaggo by Jasmeen Akhtar. A track that will definitely get your feet moving and onto the dancefloor. The perfect song to get all the family dancing together.
Shivjot releases the track Taur Tappa alongside Gurlez Akhtar which has been produced by Aman Hayer. The combination of the artists vocals alongside the composition gives the track that catchy beat that makes you want to keep listening.
Female artist Nimrat Khaira releases the track Shikayatan which illustrates how someone said you must always be careful as a guy could be cheating on her wife. This obviously brings thoughts into her mind and she starts checking his messages or observing his actions however at times ends up being a misunderstanding. Assuming is usually not the best way around solving situations and best to take time and think things through without rushing.
There were several albums released during the month such as Born Ready by Jazzy B and Imagination by Gurnam Bhullar. Alongside albums there was also releases of EP's such as Himmat Sandhu's YOLO and Navaan Sandhu's Relentless. You will hear a lot of variety between these albums/EP's which covers many different genres.
Other songs released in the month were Lost Soul by Nirvair Pannu, Malwa Belt by Sana Panesar, Dil Mangda by Rajvir Jawanda and Mani Cheema, Sea Side by Noor Tung, Ikki Na Dukki by Vicky, Haal Ve Rabba by Sonia Panesar, Influencer by Fusion and many more.
You can follow Us at Follow @Simply_Bhangra