SimplyBhangra.com Top #Songs 'September 2022'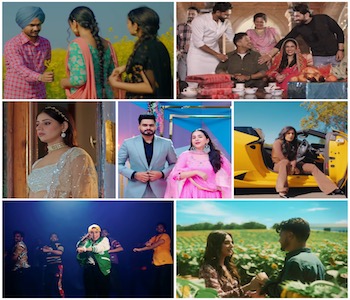 Every month we look back at the songs released in the past month so here are some of our top #Songs of September!
After a long break Jenny Johal is back with her next single Khadaake where she has collaborated with Hardy Singh from Pure Bhangra. It is an upbeat bhangra track like one of her previous tracks entitled Yaari Jatti Di. She mentioned on her social media page that it is one of her most energetic tracks.
Laddi Chahal has been in the industry for many years as a lyrist and now is slowly releasing his own tracks as a singer where he debuted with the track Habit. He has now released the track Raaje Jatt alongside one of the most collaborated female singer's Gurlej Akhtar.
Jassa Dhillon releases a romantic track which he has also penned entitled Yaad. It illustrates that she remembers him and it has taken away her sleep. She is basically thinking about him constantly.
Happy Raikoti is an amazing lyricist where he has penned many heart touching songs. his latest release Ja Tere Bina is such a heartbreaking song where he illustrates how she loses her love. The one that she gave her whole life to and cannot think about staying away from. This story has been very well directed because if you watch the video until the very end you will know exactly how she lost her love and everything her heart and soul was going through.
Kaur B's track Kya Ne Baatan is quite different to many of her previous releases. Even though it's not a dancefloor party bhangra track, it still has an upbeat music composition which is more suitable to listen to in the car or to enjoy in the background.
>
Other tracks released in the month were Mahi Nal Selfie by Resham Singh Anmol, Dil Tod Ditta by Yasir Hussain, Grace by Gurnam Bhullar, Online by Himmat Sandhu, Mitran Di by Juss Musik and Nachattar Gill, Look Classy by Bhindder Burj featuring Parmish Verma, Hanji Hanji by Amrit Maan and Prophec, Jionda Reh by Prabh Gill and many more!
>
You can follow Us at Follow @Simply_Bhangra