SimplyBhangra.com Top #Songs 'August 2022'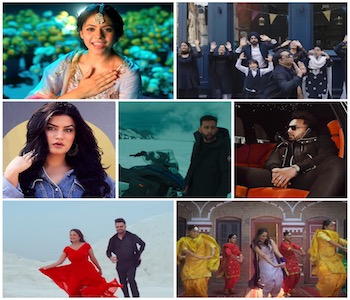 Every month we look back at the songs released in the past month so here are some of our top #Songs of August!
PropheC is back with the romantic track 'Secrets' which illustrates how a girl hides her feelings however he understands all her feelings even though she is not verbally expressing these to him.
As previously mentioned artists are releasing EP's and during August Kaur B released Blessed. This EP is filled with a lot of feelings and romance and Prem Dhillon released No Lookin Back which showcases a variety of genres on music.
Music label Brand B has introduced new artists in the industry and provided them with a starting step in their singing career such as Pari Pandher and Kiran Bajwa. Now he has introduced Basant Kur with the track All Of Me.
As you are aware few months back artists started to release one minute reels. Jenny Johal released her one minute reel for the track 'Marzi De Maalak.'
Others songs released in the month were Lahoriya by Nirvair Pannu, Uni by Ranjit Bawa, Sheesha by Karan Aujla, Fame by Raj Ranjodh, Lalkaareh by Raf Saperra, Ranjhana by Sania Salan, Khaa Layi Ve by Sweetaj Brar and many more!
Akhil is also following the steps of many Punjabi singers and will be entering the film industry as an actor in the film 'Teri Meri Gal Ban Gayi' alongside the beautiful Rubina Bajwa which will be releasing on 9th September 2022. The film will be filled with comedy, drama and romance.
Whilst Rubina Bajwa will be busy with promoting her upcoming movie, her sister Neeru Bajwa will also be releasing a movie this month alongside Tarsem Jassar and Roopi Gill with Maa Da Laadla. The film is set to release on 16th September 2022.
You can follow me at Follow @rupinder_rainer