SimplyBhangra.com Top #Bhangra Songs 'March 2022'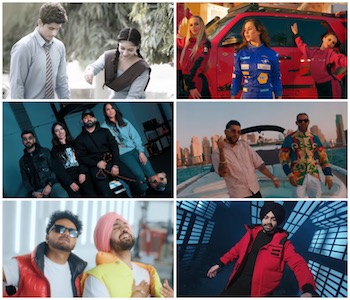 Every month we look back at the songs released in the past month so here are some of our top #Bhangra songs of March!
On 1st April the Punjabi movie Lekh released which stars the male singer Gurnam Bhullar and the beautiful Tania. During the month of March songs form the film were released some which were quite emotional and makes you want to watch the film such as the track Beliya. The film has been written by Jagdeep Sidhu who in the past worked on successful heart touching films such as Qismat, Sufna and Guddiyan Patole.
Two big international artists Jaz Dhami and Karan Aujla collaborated together for the track Bas. There are a lot of things couples know about their other half but just don't say it out loud. And this is exactly what this song illustrates and the way most line ends with the word 'Bas' gives it that extra effect to the song.
UK music producers Shaan and Verinder release the track 'Janaab' in the vocals of Prince and 'Jatt Da Jawaab' in the vocals of Satta Chahal. The first track takes you back to a old skool desi track however both are upbeat dancefloor bangers.
Sunanda Sharma releases an upbeat heart-breaking song 'Saadi Yaad' and when a break up occurs what emotions one may go through. It's all about mixed feelings, one minute you are crying and the other minute you hate the person you truly loved. If you have a listen to the lyrics which have been penned by Jaani who also composed the music you will know what I mean.
Other songs released in the month were Zindagi by Parmish Verma, VIP by Raj Ranjodh featuring Diljit Dosanjh, Shehar Vichon Geda by Jordan Sandhu, Nach Hun by DJ Aman, Ladeya Na Kar by Gurvar Cheema, Nursing by Surinder Baba and Sukhpreet Kaur and many more!
You can follow me at Follow @rupinder_rainer