SimplyBhangra.com Top #Bhangra Songs 'January 2022'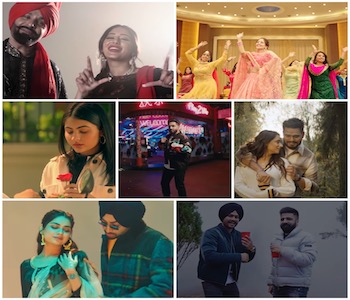 Every month we look back at the songs released in the past month so here are some of our top #Bhangra songs of January!
What an EP by Himmat Sandhu and DJ Frenzy entitled 'Bhangra Essentials.' DJ Frenzy is a well-known international DJ that has performed at well-known artist weddings or special occasions! But now he has produced his own music and bought back the solid UK bhangra beats which will definitely get you on the dancefloor especially with the tracks 'Daaru,' 'Jagga' or 'Nachlai Goriye.'
As we all know most songs last for about 3 to 4 minutes. However, Ranjit Bawa tried something different and released the track 'Gaani.' Now Gaani is not a typical song which lasts a couple of minutes. Instead it is a 1-minute music video which has been released for people to make reels and post on social media.
Manni Sandhu and Tegi Pannu were one of the biggest successful collaborations in 2021 where they released several tracks such as 'Schedule' and 'Into You' and they kick start 2022 with another banger 'Untouchable.'
Put your dancing shoes on because once you hear the track 'Teri Jatti' by Ammy Virk you will know what I mean. The video is starring the gorgeous Tania who has also worked alongside Ammy Virk in Punjabi movies.
Noor Chahal is a young female artist who has released several cover songs such as 'Kinna Chir' and 'Laung Gawacha.' She has received a lot or love and recognition through her covers that she has now released her debut track 'Jhalleya Dila.' A song full of emotions and heart-breaking lyrics which have been penned by Noor herself.
Other songs released in the month were Black Effect by Jordan Sandhu, Jatt Flex by Amrit Maan, Kamaal Ho Gea by Satinder Sartaaj, Next In Line by Shaan & Verinder featuring Prince, Weekend by Nirvair Pannu, Uche Uche Paunche by Kulwinder Billa, Shukarguzar by Prabh Gill, Brand by Sukshinder Shinda, Popsy Music and many more!
You can follow me at Follow @rupinder_rainer