Metz N Trix release Shaadi Kar ft. Fusion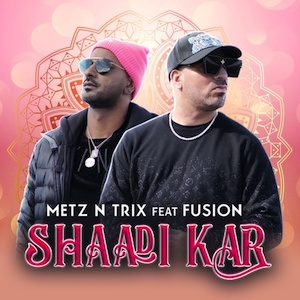 Out now is the track titled "Shaadi Kar" by Metz N Trix featuring Fusion, Music Composed by Amityxmusic!
⦿ Artist : Metz N Trix feat Fusion
⦿ Song : Shaadi Kar
⦿ Music : Amityxmusic
⦿ Mixed & Mastered by: MixedByJocelin
⦿ Female Leads : Leela Model, Francescabayyy, Charotlottetheis
⦿ Edit & Post by : Akash Musik
⦿ Directed by : Akash Musik
⦿ Amplified Media (Amplified Studio & Films)
Metz N Trix drop their brand new single Shaadi Kar feat Fusion.
After a great year for the British Asian Duo who also dropped Cha Sha earlier this year, they have decided to drop another banger which undoubtedly will be a massive anthem for 2022 and everyone who is thinking about getting married, they actually might do so after listening to this one...The visuals have definitely gone to another level since the days of RDB, The Lick and Aja Mahi.
Metz N Trix have also launched a podcast recently this year which no doubt has caught the attention of everyone in the industry and is great to see them both having banter in their studio. It's called State of Flow and is available on the digital podcast platforms.
Recently the Metz N Trix, Ministry of Sound & Young Singh launched a documentary called 'The Birth of Panjabi Garage' and it was great to see everyone telling their stories and celebrating an important part of Asian Music History and Culture. Appearances from Surj, RDB, Surinder Rattan, Manj Muzik, Gubi Sandhu, Dr Zeus and of course the legendary duo - Metz N Trix.
It's great to see after 20 years in the industry they are still releasing music and reaching out to new audiences and fan bases. Shaadi Kar is out now on Spotify, Apple Music and all DSPs. Add it to your playlist now.
You can follow me at Follow @rupinder_rainer