SimplyBhangra.com Top #Bhangra Songs 'June 2021'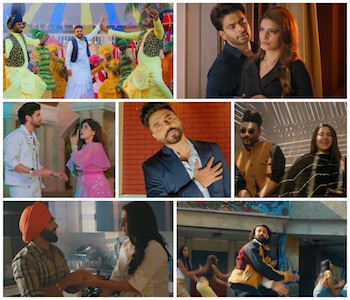 Every month we look back at the songs released in the past month so here are some of our top #Bhangra songs of June!
Ammy Virk's 'Kade Kade' is a very emotional and touching song. A song which illustrates where she is scared to say to her love that she may not live for long in case it affects him emotionally and mentally. She wants to leave him so he can start from fresh but is scared he will not be able to live with his separation. Knowing each day is valuable and not knowing what the next day will bring is scary.
There are many songs out there where the wife asks her husband to bring her an anklet or bracelet. Gurneet Dosanjh's song talks about wanting a 'Necklace.' They all talk about my friend has this that and the other, I want one too!
There are many people in this world where two people love each other so much however for some reason cannot be life partners. What could be more painful? Someone that you want to meet as much as you possibly can, someone you always think about and care for however cannot be their life partner. There were at least two songs released in the month which told this story however in very different ways. First was 'Kise De Kol Gal Na Kari' by Goldy from Desi Crew and the other being 'Viah Di Khabar' by Kaka featuring Sana Aziz.
Currently one of the biggest tracks where Sukshinder Shinda brought back the Punjabi folk sound is 'Snake Charmer' with the vocals of Raf-Saperra. Before the release everyone had strong hopes that this collaboration would go well however will it be showcased in the same way as people imagined? Well what can we say... it went well above people's expectations and surprised many.
Other songs released in the month were 'Patiale Wala' by Rajvir Jawanda and Sudesh Kumari, 'Top Notch Gabru' by Vicky.
Juraban' by Miss Pooja, 'Roka' by Gurnam Bhullar, 'Paagla' by Akhil, 'Begum' by Mankirt Aulakh, 'Jodhpur' by Dilpreet Dhillon and Jordan Sandhu, 'Surma' by Khan Bhaini and many more!
You can follow me at Follow @rupinder_rainer