SimplyBhangra.com Top #Bhangra Songs 'January 2020'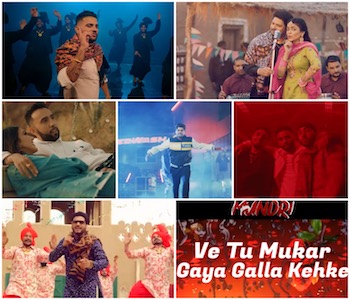 Every month we look back at the songs released in the past month so here are some of our top songs of January!
The Sandhu's of India, America and UK, Manni Sandhu, Amar Sandhu and Navaan Sandhu team up for the track 'Sandhu Takeover.' This catchy track is most suited for the club however is still a great track to casually listen to whether at home or in the car.
Remakes are always risky, especially if it is a well-known old-skool hit track. This time this risk was taken by Balkar Sidhu and Jenny Johal for the track 'Maajhe Diye Moombatiye' which has got everyone on their feet.
Just how can Prophec make such bangers with creative lyrics. Even though the upbeat track 'Kitho' isn't really a dancefloor track, it is definitely one to get you into a romantic mood and 'jam' to.
Currently, one of the most talked about artist in the industry Karan Aujla releases 'Jhanjar.' With cleverly pinned lyrics by Karan himself, you can picturise a quick 5-minute clip telling an interesting story. And on this occasion, it's all about her jhanjar. Gurnam Bhullar also releases a song titled 'Jhanjran.' You can now see how two songs with the same title can tell the same story but in different ways where the music also sounds completely different. But which one did you prefer?
Some think artists that release back-to-back stand out more in the industry and can keep up with the consistent changes. Surjit Khan, an artist who doesn't release as often as others but when he does release an upbeat track it's definitely for the dancefloor. And this one is the perfect one for those having a few drinks and enjoying themselves dancing.
Badal Talwan's upbeat dancefloor track 'Mundri' is surely one to add to your playlist. The music composition is by DJ Dips. Previously having worked together for tracks such as 'Whiskey Di Bottle' and 'Yaaria' and the success, we knew this one was also to add to the list.
During the month here are some of January's Punjabi film releases:
Jinde Meriye – Parmish Verma, Sonam Bajwa and many more
Khatre Da Ghuggu – Jordan Sandhu, Diljott and many more
Some of the other songs released in the month were 'Mehndi' by Miss Pooja, 'Ik Supna' by Prabh Gill, 'Jatt Di Pasand' by Shivjot, 'Jugni' by Bups Saggu, 'Lehnga' by Nimrat Khaira, 'Jee Karda' by Khan Saab and G Khan and many more!
You can follow me at Follow @rupinder_rainer