MIZBEATZ Views on The Current Music Industry!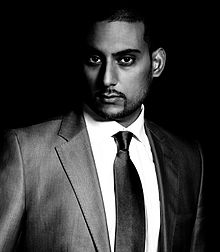 We got the opportunity to catch up with MIZBEATZ to ask his views on the music industry.
Germany born music producer MIZBEATZ has had an interest in music from a very young age.
Once he moved to America for further studies, he became more involved in music to pursue his interest further and started producing Hip Hop, R&B and Pop music. Currently living in London, he has recently worked artists such as Des-C and Ishi.
Undoubtedly, you take great care in crafting your material and producing something original. Do you think sampling can be done well, as in Hip-Hop? Or are you simply against the laziness of that once-prevalent trend in Bhangra where producers would merely stick a Dhol beat over a mainstream track?
Thank you. I spend a lot of time working on my craft. Being original is my second name!
Oh, I'm a massive fan of "old school" Hip-Hop and sampling is a huge part of this culture. I have spent countless hours on my craft, bettering myself and adding knowledge by watching and working with others. But, like anything, things can be done well, and on the flip side not so well. You have your good and bad days.
Although loop based production is becoming more popular, I personally think that there is a difference between pasting and actually engineering a loop by making it your own. Loop editing is the raw form and the actual intention behind sampling, not just pasting someone else's work into a project and calling it your own.
Every producer should invest time in to their craft, this is what makes you; your swag can possibly be duplicated in some form, but not copied.
On the other hand, not everyone has access to a live Dhol player/musician. Make the loop your own by both editing/rearranging it and adding more elements to the track, or, make an active decision as a producer to use a loop that has already been used by many, and sound like everyone else out there. It's your choice to make.

Do you think that working with several other producers on an album restricts your artistic freedom as compared to say working on your own album? And have you ever had to compromise when in a collaboration?
Nothing in life is done by yourself and one compromises on a daily basis (at least should), sometimes more and sometimes less. Too many cooks can spoil the broth. I although strongly believe in working with others, it is crucial that you spend hours in the studio by yourself to work on your craft and develop your own sound.
This is the reason why other artists want to work/collaborate with you and vice versa, as you like their sound. A mix of having your own releases along with collaborations is a healthy combination to have.
I don't think working with other producers is restrictive given that the energy or vibe is on point, and a clear goal is set with zero politics involved. In fact, you could learn new tips and tricks to better yourself.
Your music is very experimental, channelling all those wide-ranging influences. Are you therefore ever apprehensive over how critics might respond? What about Asian fans who tend to usually gravitate towards the more common Urban-Desi fusion?
I listen to a lot of the G.O.A.T's, every single one of them stated that you need to be yourself and go with the vibe. It is human nature to criticize something unfamiliar to oneself. I love being crazy and experimental as this adds to the natural high I get whilst producing a track, and helps me create something original.
The track "I Like Noodles" with my fam Des-C, for example, was a fun track and yes, we wanted it to be a point of discussion amongst supporters and non-supporters. We actually had a blast creating, recording the track and shooting the video lol!
A huge thanks to you guys for promoting our track on your platform! This, as any and all support, is not only appreciated, but also extremely important for independent artists such as myself.
I have many tracks that are experimental, and have a "Miz" swag, although being industry standard and catering for the listener is a crucial must have. I enjoy being experimental as this is me, and I will most definitely continue to pursue my style.
A critics opinion is valued, a fans view respected, a listener is someone still deciding as to whether they like me or not, which, in turn, is also absolutely okay! Yes, I cater to what the industry requires or wants but, I will also always infuse some of that Miz craziness.
I make music for many genres such as Pop, RnB, UK Grime, not only Hip-Hop (East Coast/West Coast/Dirty South), the Desi scene being new for me. I have lived in a few countries: the USA, Germany, India, now the UK, and have adapted many cultures, styles & sounds, which makes my production not only different but also exciting! I hope the listeners and industry gain a passion for my sound, as much as I love making it for them!
Keep a look out for many new releases to come in the coming months! Thanks for your time and support!

You can follow me at Follow @rupinder_rainer