SimplyBhangra.com Top #Bhangra Songs 'June 2019'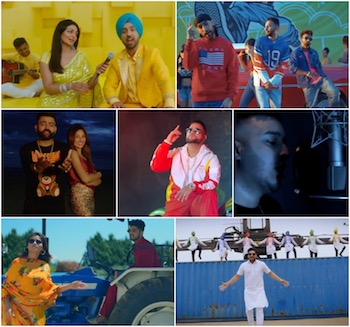 Every month we look back at the songs released in the past month so here are some of our top songs of June!
Punjabi movie 'Shadaa' has been doing extremely well from day one in cinemas worldwide. The film casts Diljit Dosanjh and Neeru Bajwa with a special appearance of Sonam Bajwa. The film is about two people who do not believe in love and marriage as these are things society have come up with and people decide to follow. But what was going through the two lead characters mind in the film which ended up them loving each other?
'My Moon' by Amrit Maan is a wonderful romantic track which is about a man that keeps meeting and showing his feelings towards his love. Not everything has to be said in words. It's not about expensive gifts or showing off what they have, it's all about understanding each other's feelings by what they do for each other.
'Ik chann rehnda ambraan te
Te dooja naal seat te behnda'
The collaboration of Navaan Sandhu and Manni Sandhu has yet again proved to be successful with the track 'Radio.' Definitely a summer banger!
'Tere City De Radio Te
Gabru Da Naa Chalda'
Karan Aujla releases the track 'Hair.' The track highlights how the wife is suspicious about her husband as there is a strand of hair in his car. One important thing is partners should trust each other and should never jump to conclusions unless they are 100% sure. You will know what I mean when you listen and watch this song.
'Right Seat Utte Labbeya Ve Haaniya
Kaala Saah Ranga Kihda Baal'
Moving away from upbeat dancefloor Punjabi tracks Raj Bains and PBN teamed up for a sad romantic track entitled 'Jhoothiye.' The deep touching lyrics by Mavi Singh and Raxstar really stood out. As we all know people go through these types of situations which are really painful however people can connect to.
Gurnam Bhullar releases track 'Kharche' featuring Shipra Goyal. The track illustrates how the wife talks to her husband about the top jobs her friend's husbands are doing and he should do something similar. However, what was the husband's reply to her questions? Listen to the track to find out.
'Karda na jatt je drivery
Chalne se aukhe tere kharche'
Some other songs released during the month were 'Summer Luv' by Mickey Singh featuring Manpreet Toor, 'Sandli Haasa' by Jordan Sandhu, 'Tere Uthe' by The Dark MC featuring Pammy Saini, 'Adhi Raat' by Ranjit Bawa, 'Truck Union 2' by Surjit Khan and many more!
You can follow me at Follow @rupinder_rainer