SimplyBhangra.com Top #Bhangra Songs 'November 2018'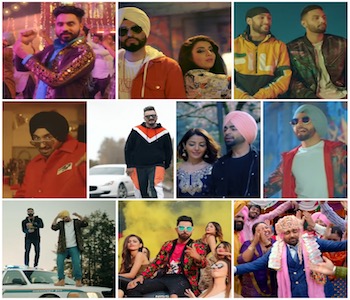 Every month SimplyBhangra.com will be looking back at the songs released in the past month and giving you some of our top songs of the month. Here are some of our top songs of November 2018!
It has been an extremely successful month for Manni Sandhu with three back-to-back releases. All tracks are of different genres. Firstly, the soft composition of the romantic track 'Jind Mahi' by Diljit Dosanjh featuring Banita Sandhu won the hearts of many fans.
Secondly after a phenomenal response to 'In Demand,' Manni Sandhu and Navaan Sandhu teamed up once again for 'Special Edition.' The collaboration has proved to be extremely success. And, later this month we will be telling you about want Navaan had to say about his journey.
Finally, 'Challa - Part 2' alongside Gurj Sidhu from The Legalised Project by BBC Asian Network.
Gurj Sidhu is a growing UK artist and over the past few years has had a strong input in the music industry. An artist that likes to cater for different audiences through his tracks has recently released his single 'Adha Pind.' The composition to his music is very different which I would say makes him stand out alongside his voice.
'Adha pind dinda pura saath jatt da,
Sala adha pind mitran ton macheya peya'
Another growing artist Jass Bajwa is slowly becoming more known. He has worked alongside artists such as Gurlez Akhtar and Dr Zeus in his recent album entitled 'Jatt Nation' consisting of nine tracks: Dil Jatt Te, One By One, Jatt Nation, Sajja Hath, Rond Vaarte, Raja-Rani, Nikkeaa, Gun Shot and Munde Patt Te.
Ammy Virk released the track 'Double Cross.' With a beautiful video directed by Sukh Sanghera, lovely composition by Ikwinder Singh and lyrics by Happy Raikoti it has made the song as a whole very successful. No gangster look, just simple and sweet.
'Ve hunn taithon suit vi nai jud da
Tu pehlan mehal banaunda si'
After the success of 'LV Di Jean,' currently one of the strongest female artists in the industry Jasmine Sandlas collaborates again with Preet Hundal for the track 'Whiskey Di Bottal.'
Jordan Sandhu released an emotional song entitled 'Heer Saleti.' Some tracks are out there for people that can connect to it in their real lives and I would say this track is one of them.
Besides composing music Goldy is also becoming more successful in his singing career. Looking at back from his debut track to his recent release of 'Note Muqabla' alongside the well-known Gurlez Akhtar you will be able to see this growth and confidence.
After 'Jatt Da Muqabala,' Sidhu Moosewala has released the next video to one of his songs from his album 'PBX 1' entitled 'Bad Fella' with music label T-Series. This artist is one of very few artists that is unique in what he releases and this could be the reason for a huge fan following in an extremely short period of time.
Fans have showed a lot of love for Gippy Grewal's track 'Weekend.' With a catchy upbeat composition makes the song enjoyable to listen to.
'Ho jattan da taan hunda weekend jattiye
Ni nit athne jehe'
'Laatu' starring Gagan Kokri and Aditi Sharma and 'Marriage Palace' starring Sharry Maan and Payal Rajput are some of the Punjabi films which released last month. As you can see both films have artists who turned from singers to actors showing the level of versatility people have out there and being able to showcase it the right time.
Other songs also released were 'Snapchat Selfie' by Resham Singh Anmol, 'Viah Wala Card' by Ravneet Singh, 'Hello Hello' by Rajvir Jawanda, 'Jor' by Ranjit Bawa, 'Pyar Karlo' by Jassimran Singh Keer and many more!
You can follow me at Follow @rupinder_rainer