SimplyBhangra.com Top #Bhangra Songs 'October 2018'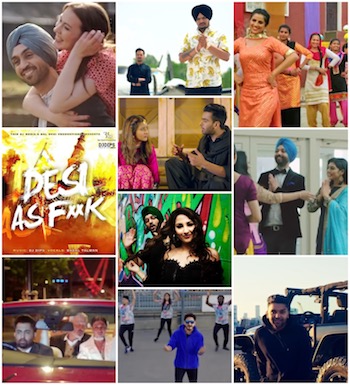 Every month SimplyBhangra.com will be looking back at the songs released in the past month and giving you some of our top songs of the month. Here are some of our top songs of October 2018!
During the month of October two big albums were released. Firstly, Sidhu Moosewala dropped his debut album entitled 'PBX 1.' His songs and videos are completely unique... no copying or following the current trend. Its fresh! And with the release of 'Jatt Da Muqabala' you will see why this track became a huge hit.
And DJ Dips released 'Desi As F**K' which consists of 15 songs. 'Yaarian' was a massive hit which featured Badal Talwan and Roach Killa and now the album has 'Yaarian 2.' 'Jere Kende Si' which is a sad romantic track is definitely one to listen to. To those that have broken up with their loved one and no longer together will really be able to connect to this song.
What can I say about Sharry Mann? 'Yaar Chadeya' is a song about how a girl chooses money over her love which in future she regrets. If you clearly love someone they cannot easily be forgotten and money would have never been the main factor for leaving someone. As long as the essentials in life can be met and are both happy that is what brings happiness into life. And money does not always bring happiness. The music has been nicely composed by Snappy and video by Navjit Buttar.
The international superstar Diljit Dosanjh has always got something different for us. Last month he released two songs of different genres and completely different videos. The first being a sad romantic song 'Pagal' and the second song entitled 'Putt Jatt Da' which has received very mixed views due to the video and expectations people has of Diljit as an overall singer.
However, not every song needs a video to be successful and Kaur B has proved this alongside many other artists as she released her first lyrical video 'Maharani.' Jenny Johal has also surprised the audience. Alongside her strong powerful voice, she has tried a new modern concept in her video 'Gold Wargi.'
Over the years Mankirt Aulakh has been one for trying out new concepts. However, many people like the songs he used to do when he entered the music industry. Tracks like 'Choorhey Wali Bahh,' 'Khayal' and 'Gallan Mithiyan' have been more favourable and if you agree you must check out his new track 'Kamli.'
If I say G Sidhu I am sure you must be thinking what has he got lined up for us next! One thing I can say is this time he moved away from the romantic and wedding style songs and released 'Hip Hop.' What is different...well watch the video and you will find out!
Guru Randhawa is constantly trying something new and with his recent track 'Downtown' a track which is not really for the dancefloor like 'Suit' and 'High Rated Gabru,' it has got that catchy beat which the younger generation may get a stronger feel for.
Over the past two months there was a surge in the number of Punjabi filmy song releases however this month this has declined due to the number of film releases. 'Ranjha Refugee' released on 26th October featuring Punjabi singer Roshan Prince and the beautiful actress Saanvi Dhiman.
Other songs released throughout the month are 'Aaja Mahia' by Jasbir Thabal, 'Hukam Da Yakka' by Gippy Grewal, 'Love You Jatta' by Garry Sandhu,
'Teri Kamiyaan' by Akhil, 'Queen of Sardar' by Rupinder Handa, 'Light Weight' by Kulwinder Billa, 'Kashmir' by Miss Pooja, 'Miss Karda' by Jazzy B, 'Background' by Ammy Virk and many more!
You can follow me at Follow @rupinder_rainer