SimplyBhangra.com Top #Bhangra Songs 'September 2018'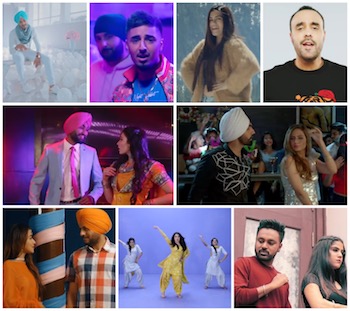 Every month SimplyBhangra.com will be looking back at the songs released in the past month and giving you some of our top songs of the month. Here are some of our top songs of September 2018 and the female artists have come back!
Let us start off with Jasmine Sandlas who always brings something different. 'Patt Lai Geya' which has been directed by Jasmine's sister Rosleen Sandlas is a romantic track with a simple video which makes the whole song sound so graceful. Many youngsters may be able to relate to her songs therefore be able to feel the song even more.
There are many songs sung by male artists which illustrates how they are strong and no one can reach their status however Kaur B's 'Budget' illustrated how women are just as strong and men cannot afford the expenses of a women. Snappy has worked with artists and provided top tracks such as Diljit Dosanjh's 'High End.' Snappy also composed the music to 'Weekend' by Ranjit Bawa which released earlier last month as well as 'Budget.'.
Other female's artists such as Navneet Mann released her debut song entitled 'Dariyaan' and 'Tralle' by Anmol Gagan Maan.
Surjit Khan is an artist with a distinct strong voice and with his recent release of 'Dupatta' it will undoubtedly hit the dancefloor. Bringing back a few lines from the past has given the song that extra touch featuring Music by Ambi & Dilly!

'Tere laung da
Tere laung da
Tere laung da peya lishkara
Ni dil saada moh ke lai gya'
Finally, after a long wait Saini Surinder releases a dancefloor banger 'Bhangra vs Giddha' which he has been performing at weddings for the past few years. This is another one of those dance-off tracks that will bring on competition between two sides on the dancefloor featuring Music by Dj Impact - DBI!

Over the past few months there has been a lot of Punjabi film promotions through the release of songs. And during the month of September this continued with the release of 'Tich Button,' 'Pasand Jatt Di,' 'Ishq Jeha Ho Gye' and 'Blood Vich Tu.'
GV released his first single from his upcoming album 'Starve The Ego' entitled 'On The Run.' Earlier last month many people from the industry were invited for a private preview and the response received was overwhelming which was also proven through the release of the first single. The album will be releasing later this month.
PBN and Raj Bains once again collaborated for the tracks 'King of Kings.' Amar Sandhu & Ezu released 'Patakay' which has been composed by UK music producer DJ Harpz.
Other songs released throughout the month were 'Brotherhood' by Mankirt Aulakh, 'Dream' by Kabak Singh, 'Mera Dil' by Rajvir Jawanda, 'Rog' by Sukshinder Shinda, 'Teri Aakad' by Prabh Gill, 'Wakh Ho Gye' by Binnie Toor and many more.
You can follow me at Follow @rupinder_rainer