North America's first mainstream South Asian radio station premieres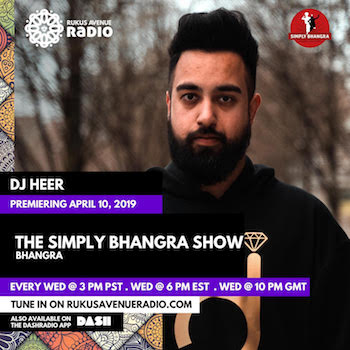 RUKUS AVENUE RADIO DEBUTS SOUTH ASIAN CULTURE ON DASH RADIO North America's first mainstream South Asian radio station premieres April 8, 2019
Rukus Avenue Music Group, North America's first South Asian record label founded in 1996, has partnered with DJ Skee and Dash Radio to launch North America's first mainstream South Asian radio station, Rukus Avenue Radio. The station will begin broadcasting worldwide April 8, 2019 on Dash Radio.
Designed for anyone with an affinity for South Asian culture, Rukus Avenue Radio listeners can expect to be entertained, inspired and informed. Boasting over 85 original shows hosted by some of the world's most prominent South Asian music artists, DJs, journalists, comedians, activists and influencers, Rukus Avenue Radio offers something for everyone. Bhangra, Hip Hop, Bollywood, Electronic and Devotional are some of the music shows on tap, in addition to a weekly Top 20 Countdown. Listeners will also have access to world-class hosts and opportunities to engage in compelling and timely conversation about various topics relating to the South Asian diaspora such as wellness, feminism, politics, relationships, business and LGBTQ issues, to name a few.
Interviews with of some of the world's most sought-after South Asian celebrities, including Priyanka Chopra, Russell Peters, Rupi Kaur, Anoushka Shankar, Deepak Chopra, Sunny Leone -- and many more -- will mark the historic launch. "There's so much anticipation around this station and especially this business venture," says Rukus Avenue Founder and CEO Sammy Chand. "We're honored to be partnering with Dash Radio through the establishment of this platform, and are thrilled about presenting our South Asian culture to a worldwide market - the prospect of the social impact our community of over 80 celebrity hosts can have is very exciting to us."
Rukus Avenue Radio can be listened to 24-7 through the Dash Radio app available on iOS and Android, as well as on the Dash Radio platform at DashRadio.com completely free-of charge and commercial-free. Dash Radio was created in 2014 by world-renowned DJ Skee (Scott Keeney) and is currently the world's largest all-original digital broadcaster, with over 80 curator-championed stations and a monthly audience of over 10 million listeners.
"Dash has always been successful focusing on often overlooked genres," says Dash Radio Founder and CEO DJ Skee. "The potential for Rukus Avenue and the music of India is massive with an underserved market ripe for premium live audio content - we are excited to welcome them into the Dash family."
Some of the prominent American hosts joining Rukus Avenue Radio include Nakul Dev Mahajan (of "So You Think You Can Dance"), YouTuber Dee Murthy (founder of Menlo Club and FiveFour Clothing), iTunes New & Noteworthy podcaster Natasha Chandel and influencers Cas Jerome and Joty Kay among others.
"Having Rukus Avenue as part of our Dash Radio family pushes us towards our goals of global radio," says Dash Radio VP and Director of Programming Isaac Heyman. "It is an important station to me professionally, personally and spiritually - I look forward to working with their incredible team in bringing top South Asian talent, culture and content worldwide."
Notable British hosts joining Rukus Avenue Radio include bhangra pioneer Kuljit Bhamra MBE, Diamond Duggal aka DJ Swami (producer of Shania Twain's Up album) and singer-songwriter Navin Kundra. Notable Canadian music personalities joining Rukus Avenue Radio include JUNO winner Kiran Ahluwalia, Sanjay Seran (of acclaimed band Delhi 2 Dublin), and XD Pro (producers of the Gully Boy film theme song with rap icon Nas).
Toronto FM veterans Baba Kahn, Tricky Moreira and Amita Handa are also making the move to become some of the first Canadian personalities to join DASH's digital radio platform.