Ranbir Daskai ft. G Soni - Dukh Khol Ke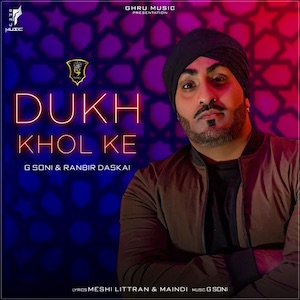 UK Bhangra Artist Ranbir Daskai is back with his latest release Dukh Khol Ke, who this time has teamed up with G SONI of GHRU Music.
Known for his love of soulful Sufi, Ranbir adds to his catalogue of releases that include Kher Veh, hit track Yaad Karengi and Ki Karra.
G Soni is an experimentalist when it comes to sound. Known for his work on Mehi's album Gift, K Zie's Mesmerize and various other projects released under labels such as SONY and T Series, Ranbir Daskai and G Soni have come together to bring an in-depth feeling of emotions. This amazing slow flavour will have listeners relate and at the same time enjoying this amazing vibe.
"Every song should bring its own unique feeling & essence to the listening ear' beautifully created and composed with a touch of 90's sad song composition with a slight touch of new age/Electronica/R'nb production giving it that unique GHRU MUSIC Sound". (G SONI)
You can follow me at Follow SimplyBhangra.com