Subaig Singh - High End Nakhra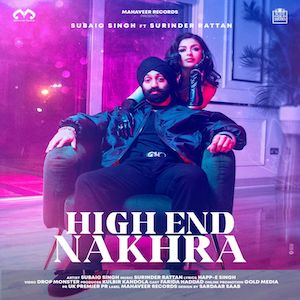 Out now is the track titled 'High End Nakhra' by Subaig Singh, Music is by Surinder Rattan and the lyrics have been penned by Happ-e Singh.
UK based singer, Subaig Singh, has shown his ability to stay on top of current trends by releasing hit after hit. ''HIGH END NAKHRA'' is out now and is set to be an epic summer track this year.
Gaining widespread popularity, Subaig Singh continues to set high standards, establishing himself as an artist with a distinct voice and a look that has spearheaded his ascent in the industry.
Produced by Kulbir Kandola of Mahaveer Records, Lyrics by Happ-E Singh, Music by Surinder Rattan ''HIGH END NAKHRA'' is a catchy slow jam, romantic track which will surely resonate with fans after the first listen. Video is produced Drop Monster and features model Farida Haddad.
Subaig continues to provide quality content and once again demonstrates his versatility as an artist with this latest release.
You can follow me at Follow @rupinder_rainer