Charan B ft. Bakshi Billa - Sanjog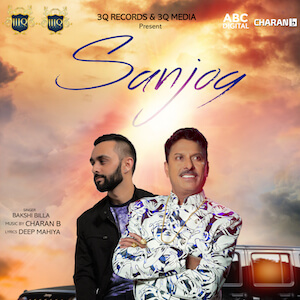 '3Q Records' & '3Q Media' presents Music Producer "Charan B" with his debut single 'Sanjog'. The song features powerhouse vocals of singer 'Bakshi Billa'.
The song is written by lyricist 'Deep Mahiya'. The video has been shot in India by 'Sonu Sekhon' and in the UK by 'Bilal Sayeed Productions'. The song also features instruments played by Raj Birdi (RXJ Music), Jelly Manjitpuri, Shibu and many more.
"Charan B", born and raised in Southall (London) began his musical career from an early age during high school. The passion for music continued as he completed his diploma in Sound Engineering and started releasing remixes online in 2012. Charan went on to assist award winning producer Vee in his studio and this allowed him to gain experience in studio sessions with the likes of Hunterz, Ishers, Ziggy Bonafide, Sama Blake, DJ Vix etc. Following the success of his remixes of Jay Sean's "All I Want" and Mickey Singh's "Phone".
Charan has also recently collaborated on a single with world famous Grime/Dubstep producer Sukh Knight and the unreleased track was featured on Bobby Friction's show (BBC Asian Network). "Charan B" would now like to officially introduce himself and his production to the music industry with his debut single 'Sanjog' Feat. Bakshi Billa.
You can follow me at Follow @rupinder_rainer