Jag Bancil ft. Roy Randhawa - Dhokhe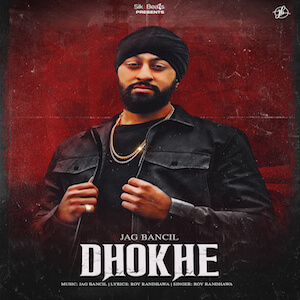 SikhBeats & Jag Bancil are excited to announce their latest collaboration with new vocalist, Roy Randhawa, with the song titled 'Dhokhe' which is available now on all major digital platforms.
Lockdown in 2020 has been a challenging time for all of us, however, this did not stop Jag Bancil from pursuing his passion. He kept busy working on an instrumental EP titled, 'Quarantine Beats' (which you can check out on Simply Bhangras SoundCloud) which was released during the first lockdown in May 2020. During this period, Jag was inspired to create the beat, that is behind 'Dhokhe'. This is a UK drill beat, and one of the challenges faced by Jag was to incorporate desi elements, such as, punjabi vocals. Jag's vision was to introduce a sound which has a universal vibe for the British and Punjabi audience.
Jag's previous release's have reached a worldwide audience, he was approached by a fan from Australia who further introduced him to the vocalist behind 'Dhokhe' Roy Randhawa. This collaboration connected on a great level and many ideas were discussed and exchanged. Jag shared the beat behind 'Dhokhe' with Roy and shared his vision of what he wants the song to be about and this is where the lyrics were formed.
Finally the song was complete, after sharing many what's app voice notes (lol) the rest is history.
A video has been shot by Raj for this song "Dhokhe" which has been recorded in Jag's hometown, Coventry, it is a simple concept that correlates to the song.
Jag Bancil is working with a variety of artists and will be releasing his next song in April 2021, for all his musical updates, stay tuned to his social media.
Jag Bancil shares a few words for his fans:
Love and respect to every single person that listened to my new song, dropped me a comment, shared a post and just genuinely supported me. I thank you from the bottom of my heart man, we aint stopping, believe that. A massive big up to my boys who featured in video.
You can follow me at Follow @rupinder_rainer