Sapra - Always on My Mind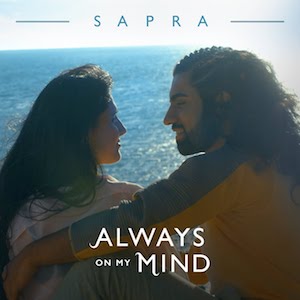 SAPRA's "Always on My Mind" Reminds Us of the Power of Love!
"Always on My Mind" is SAPRA's latest heartfelt and romantic dance track. This blend of Bollywood romance mixed with a catchy English hook tells a tale of love, absence, overcoming the loss of love and, ultimately, learning that self-love and love for another are truly paramount toward our path towards happiness. The idea of that unforgettable one, that inescapable dream that you find yourself returning back to. This song is an exploration of that persistent memory.
"Always on My Mind" is a sensational ballad explores the idea of a romance. The track dives into that deep kind of love we're all searching for. But once we've found it and it's left our lives; how do we deal with the absence of it? SAPRA's latest track forces us to understand the depth of love and emotions. It explores the idea of finding that unforgettable one who always stays on your mind, that singular, ephemeral dream. The inescapable vision of that one true love. Yet, the ups and downs we weather throughout these relationships, or rather the absence of them, can be profoundly life-altering. Sometimes we find ourselves falling into addictions or obsessive behavior. When we find ourselves confronted with the potential loss or absence of this love, we may become angry and disappointed. We might find ourselves inclined to want to self-destruct with that recurring memory of that love.
In SAPRA's own personal life, he experienced a wonderful romance with someone who eventually had to leave. Confronted with this, he spent days, weeks and months really grappling with the loss of this love. And, in time, he found peace recognizing that the love he experienced was eternal. Even if the relationship changes, the love we carry within our hearts remains. Through this realization, "Always on My Mind" came into existence.
With alluring beats, a mesmerizing violin and pulsating rhythm, set against a catchy hook, this song sets itself apart. The single, juxtaposed against beautifully conceived Hindi vocals and harmonies, becomes a seductive auditory dream. This song also reflects the incredible classical South Asian vocalization stylings of Parinita Sharma, whose elegant voice adds a transcendent quality to the track. All of this, wrapped against SAPRA's rich vocals creates the entrancing experience of "Always on My Mind", a unique vision of a world where we are reminded of love's true healing and enduring force within our lives.
The music lyrics were written by Sharad Tripathi, Bul Bul Sapra and SAPRA. The single was produced by Sharad & Sapra, Trippy Palm Tree and Ara Murzo. Gurpreet Singh and Gagandeep Singh also served as guides throughout SAPRA's musical journey. The single was released through Straight Out of India and SAPRA is currently managed by Salma Habib.
You can follow me at Follow @rupinder_rainer