Subaig Singh ft. Popsy Music - Brotherz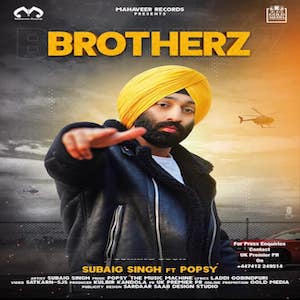 After back to back releases in 2020, Subaig Singh releases his next single Brotherz! Popsy Music Production.
After the phenomenal success of 'SOCHI NA' Subaig Singh continues his creative spree with the release of another banger 'BROTHERZ' … Lyrics are penned by Laddi Gobindpuri, music has been composed by Popsy the Music Machine, video is shot by Satkarn-SJS and the overall project produced by Kulbir Kandola of Mahaveer Records.
Brotherz is a modern desi bhangra track and is sure to be a hit on the dancefloor with bhangra headz and fans of desi music. The song is all about brotherhood, loyalty and how brothers protect each other and watch each other's back.
Subaig Singh has been working on a number of new songs during lockdown, which has proved to be a difficult year for the industry. Subaig Singh states making music during Covid 19 has proved difficult, but the positive messages that he has received from his fans, who look forward to his releases have been incredibly encouraging and positive.
Speaking about 'BROTHERZ', Subaig said that he wanted to make a track that all guys can relate to and enjoy with their friends and relatives on the dancefloor.
This action-packed video was shot in Punjab by Satkarn-SJS, a talented upcoming director, and VFX Hunters were responsible for the conception, design, editing and colour correction. The story is reminiscent of a fully blown Punjabi action movie with Subaig donning a new look and playing the role of a Punjabi action hero.
The story is centred around two rival groups of guys who are contesting a village election, and how the rival group tries to infiltrate Subaig's group and undermine it from within. However, Subaig quickly identifies the traitor and comes back on top in the end. The video has it all, bhangra, dancing, action, music, acting and drama. It also features well-known actors such as Amritpal Singh Billa, Money Romana and Tik Tok star, Fateh Siyan.
Subaig Singh, who grew up in Nottingham, UK and now lives in Leamington Spa, has delivered high quality products again and again, which proves his versatility, determination, and hard work when it comes to his music by delivering quality and hit after hit, in a variety of different genres.
With the stand-out lyrics and distinctive production in Subaig's recent releases do we think this case illustrates that, especially now, listeners are seeking something fresh and original?
And he quotes Definitely. There is room for everyone in this game. Variety is the spice of life. If I can create different, cool and interesting stuff for my audiences, then that is the best way I can stay competitive. I guess some people just want the same old stuff and others want to hear something different.
Neither is wrong. But for me, if I stick to one sound, and just keep repeating it, I find it a bit boring and depressing. I need variety to keep it fun and enjoyable for me.
You can follow me at Follow @rupinder_rainer