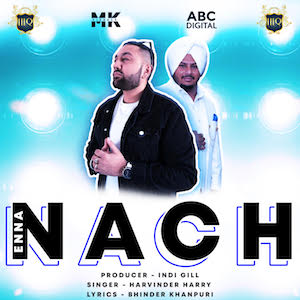 3Q Records & 3Q Media Presents "Indi Gill" with his debut single 'Enna Nach'.
The song features the powerful vocals of "Harvinder Harry" who has featured on Voice of Punjab (Season 1 on PTC Punjab). Harvinder has previously released hit singles such as Sardar Ji, Maula, Tera Mera Naa & Pyaar Nahi Karda.
Indi Gill was born & raised in Birmingham, a city which has played a major part in the UK Bhangra culture. He moved to Leicester and at the age of 14 he started his musical journey. Indi was a fan of remixing all types of genres such as Bhangra, Grime, Garage, Hip Hop & R&B etc. This inspired him to try different avenues within the music industry from rapping to music production. He also organised events and has performed alongside some of the biggest names in the music industry.
In 2011, Indi decided it was time to launch his record label "3Q Records". The label introduced artists such as Ranbir Daskai, Dav Juss, Pav Dharia, Sheri G, Tank & many more. In 2016, Indi launched his PR and marketing company "3Q Media" which specialises in promoting artists and events. During the many years of working behind the scenes, Indi started creating his own projects and is now ready to release his debut single.
You can follow me at Follow @rupinder_rainer