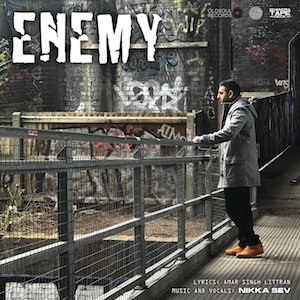 Looks like 'Pajh Gaye' isn't going to be the only release this week.
The latest track from the album, '1501', 'Enemy', flips the script on what we're now used to associating Nikka Sev to. The track takes us back to the 90s UK Bhangra sound interlaced with Nikka's signature elements.
Now, this will shock many. As well as providing the music for the track, Nikka has also stepped up to the mic and provided his vocals too! What many people don't know is that Nikka was learning how to sing before making music production and learning instruments. This skill has allowed Nikka to get exactly what he wants out of a vocal, when working with other artists.
Lyrics have been provided by Amar Singh Littran a vocalist that Nikka has previously worked with. The track boasts about keeping your self-respect, living in pride, keeping your head held high and to never break the bonds with friends and family.
You can follow me at Follow @rupinder_rainer