Foji Gill - Sher Di Poosh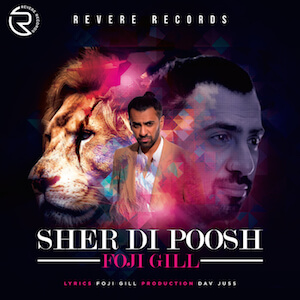 Revere Records is proud to release Indian Music icon Foji Gill's new single Sher Di Poosh.
The mastermind behind previous hits including Bruah and Pumbeeri, Foji Gill, is stepping back into the spotlight with the release of his new song, Sher Di Poosh.
Both nervous and excited to be back doing what he loves, Foji recognises the importance that music has played over the past few years.
"Music has always been a big part of my life, and through some difficult times recently, being able to write music has saved me. I appreciate that I am able to come back and do what I love," says Foji.
"It is scary to come back onto the music scene, and I know that there will be those ready to tear me down, but music gives me a voice and a chance to tell my story, my way, and in my own words."
So what can Foji's fans expect from him now?
"It is still me. I am still going to push the boundaries and try and come up with something new and better every time. The indian and bhangra music scene is evolving and I am determined to lead from the front."
What about this new song? What is Sher Di Poosh all about?
"This first song is definitely a response to my critics. When a big, life changing event happens, people can have a lot to say. Everyone has an opinion and hearing all of that can be tough mentally. Sher Di Poosh is a song for all of my fans that want to tell the haters that they will not win. We will come out the other side stronger and can't be broken. We can only listen to the negativity for so long before we bite back!"
"It is also a song that recognises all of the people that have had my back and supported me through the last few years. Hopefully it can be a celebration for them too."
Foji has also been known for his innovative and different videos – and Sher Di Poosh will not be any different. "We have a great story to tell with this music video, so for the first time ever we are releasing the video a fortnight after the song launch. But this is a big production and we wanted it to stand on its own and allow us to create something special."
You can follow me at Follow @rupinder_rainer