En Karma - Femme Fatale Chori Chori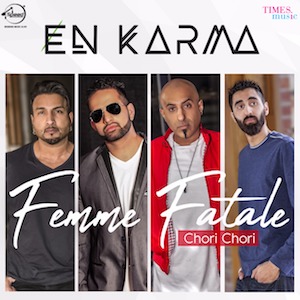 "Good Karma" always comes back around: The Bhangra Boys are Back! With their brand new release Femme Fatale/Chori Chori
Starting Wednesday December 12, 2018 with the release of their latest single of "Femme Fatale/Chori Chori" and then Spring 2019 comes a full album, co-produced with Canadian the hot shot Harj Nagra.
The band is so one of a kind, that they are the only active Bhangra band on the mainstream circuit. Best known for their electrifying performances with the beats of Bhangra, their style and sound has been undeniable on the dance floors across the local and international music scene for over a decade.
A true dedication of their love for the drum and dhol.
Bhangra is one of the most recognized styles of music and dance anywhere you go in the world. En Karma - is a name associated with this sound and movement in North America. With their roots firmly planted in Canada, India and the UK - En Karma has branched out to reach fans around the world and dominate the Canadian World music scene for over a decade.
En Karma consists of Nick Chowlia on keys, Pip Dhaliwal on drums, Karmvir Cooner on dhol and Inder Kooner, the bands lead vocalist.
Together they have released two albums with a third one coming out Spring 2019.
You can follow me at Follow @rupinder_rainer