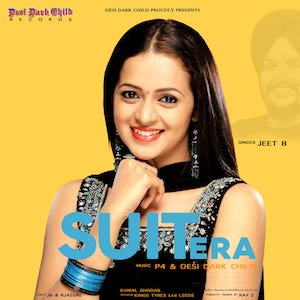 DDC Records are thrilled to announce the release of 'SUITERA'. The song features the talented Punjabi singer 'Jeet B' and produced by Desi Dark Child and along with a upcoming producer known as 'P4'.
'Jeet B' has worked his magic with many home-grown artists from Punjab. He has that natural lyrical and vocal talent and proudly enjoys the rich inheritance of Punjabi Folk Singing. Switching pitches in a single track for some singers can prove to be difficult but ' Jeet B' has proven to be very versatile.
Punjabi music industry is at its peak. Having good music in songs make them a treat to listen to. 'P4' is just one of those upcoming music producer's to watch out for. Producers take on many forms and they are arguably the engines that drive many different styles of popular music today, says DDC. With new talents each day entering this crowded, competitive scene some relatively unknown, and some on the cusp of breaking through. No matter their place in the hierarchy, producers like P4' are dropping the most exciting productions around with guidance.
The main man himself 'DDC' has been busy over the past year with setting up his new Coffin studio and composing new material. The U.K. music producer is excited about the upcoming single' SUITERA' and is especially looking forward to 2019 with star-studded collaborations in the pipeline who wouldn't be?
The massive Punjabi diaspora overseas, now brought closer by digital distribution, is a big market for online sales. SUITERA is going to be, available everywhere on mainstream digital paid download sites like iTunes & Spotify. You can officially preview it www.soundcloud.com/desidarkchild and show it some love by sharing and supporting on your social media platforms.