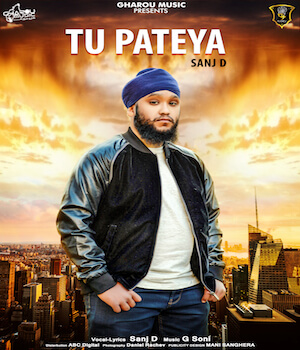 Introducing another amazing singer/song writer to the British Asian music industry by the name of Sanj D with his brand new single 'Tu Pateya'.
Having worked with various artists from the UK and Punjab, Gharou Music is an independent label and production team who bring a mixture of genres (Western & Punjabi music) together to give a new sound to its audience.
Tu Pateya has been written by Sanj D himself and in order to write such an awesome song Sanj D had to come out of his comfort zone and move with the trend set by the pioneers of Bhangra. GSoni (Producer) has given the production such an amazing mix of Punjabi Folk and Urban sound.
Sanj D: I have always enjoyed bhangra so thought I have to make one for the collection. After a lot of hard work I am now set to release my brand new single along with many more upcoming tracks with my record label Gharou Music in 2019.
Thank you for all the love and support till date. Making music for the listeners who love the deepness of our Punjabi music. "If you cannot become a star in the eyes of the Lord, then there is of no use, conquering the hearts of people." - Sanj D Artist
www.gharoumusic.co.uk
www.facebook.com/gsoniofficial
Instagram
@Gsoniofficial
@ammoofficial
@Sanj_D_Official
Twitter:
@GHAROUMUSIC
You can follow me at Follow @rupinder_rainer