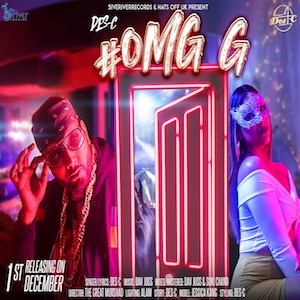 Des-C releases his second single for this year called 'OMG G' that has been produced by UKs very own Dav Juss and self-penned/Sung by the man himself sada apna Des-C.
'OMG G' has a perfect concoction between the banging of the Dhol and Dholki Vs. the thumps, licks and drops of a hard hitting Reggaton beat. It is not your stereo typical trend following anthem and definitely sticks out from the rest. The song itself offers the listeners and dancing addicts a great balance of musical onslaught for them to bop their heads and tap away hypnotically.
"I lyrically did not want to go off track and incorporate too many English words into the song as everybody is doing now. I wanted to give the listener a balance of something which has been long been missed on these shores. I predominantly kept it des-c, simple and catchy! I wanted to let the listener feel the UK Bhangra industry has a presence which still holds firm when it comes to musical creativity." says Des-C
Des-C has long since evolved from the 'Mentor Kolektiv' days to now producing his own music which he promises to showcase a lot more of this coming year. Des-C has not started to not only make his music for himself but is also making music for other artists. He has now bettered himself creatively and will be directing and producing more music videos.
Furthermore Des-C has co-directed and written the music video story. He has revealed he is also shooting and directing music videos for some up and coming artists.
The music video of 'OMG G' offers a complete 360, out of the box experience for the viewer and listener. It visually ventures into the realm of magic, mystery and confusion.
It features a special Cameo from a certain someone and will be released independently through 5ive River Records in association with Hats Off Uk.
This year Des-C has been quiet productive, consistent and diverse in terms of making musical noise. He has independently on his official YouTube channel (@theofficialdesc). He has released covers from Camila cambellos Havana remix fused with Guru randawa, songs to releasing his own single 'Sau Speed' through E3UK. I think it is safe to say he is back in action and will stay only to give us more flavoursome year ahead.
He has definitely upped his game and is surly coming into the New Year with an explosive banger! This is something we would not expect anything less from Des-C.
You can follow me at Follow @rupinder_rainer